Antley's
Address: 1370 Sims NE, Orangeburg, SC 29115
Phone: (803) 531-0444
Cards: Yes
Hours of operation: Wednesday – Saturday, 11:00am – 8:45pm. 
"Very comfortable and pleasant restaurant."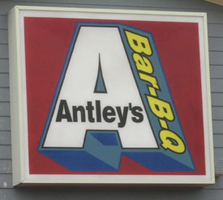 Antley's is Orangeburg's "second" barbeque.  Duke's will probably always be the "first" at least until all the old-timers die out, since Duke's has been the mainstay in Orangeburg for generations.
However, one should not be so fast to make an uninformed decision.  For instance, the owner of Antley's on Sims Avenue also owns the Duke's on Whitmire Street in Orangeburg.  Presumably, having bought that Duke's operation, they are to keep up the Duke's recipes and the Duke's way of doing things and having eaten in both places I can tell you that there is a great deal of crossover in food and style.
Antley's on Sims Avenue is a much more modern and up-to-date restaurant than either of the two Duke's in town and it's much larger too.  It needs to be to handle the crowds.
Antley's serves a barbeque that features the kind of sauce that South Carolinians have come to recognize as a sub-group of mustard sauce; Orangeburg Sweet Sauce.  Orangeburg sweet sauce is, as the name suggests, sweeter than the usual mustard sauce that one finds in Lexington and Newberry Counties (with the exception of Farm Boys in Chapin) and it also has a touch of ketchup in it so that it looks a little redder than the usual mustard sauce.  Sweeter and redder but still a basic mustard sauce.
That sort of sweeter sauce has been growing in popularity over the last couple of decades as more and more people move into South Carolina who like their barbeque sweetened. Antley's is the place in Orangeburg (as is Duke's) that has popularized that style.
The hash at Antley's is almost indistinguishable from Duke's hash and there are many, many South Carolinians who swear that that style of hash is their first choice favorite. I've heard two different people say they go there just to eat the hash and rice and have the hushpuppies.
Antley's is large and has a down-home atmosphere in that it is the sort of place that you expect to see a friend or two there and they will generally have their family with them. It's the sort of place where people wave to each other across the room.
The buffet is large and it has all of the usual country offerings one wants and then some, so barbeque is not only thing you can get there.  But the barbeque is what most people come for so you need to put Antley's on your list if you are in the area.