Bar-B- Que Hut
Address:
S Guignard Dr, Sumter, SC 29150
Phone:
(803) 773-5911
Web site:
Cost:
Cards:
yes
Hours:
Thursday & Friday, 11-8, Saturday 11-7:00pm 
"I'd go there even if all they had was their buffet and the corn pones."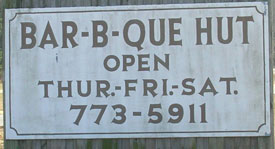 Ward's is so long established in Sumter and in so many outlets (3 for them, plus they cook for a couple more) that people automatically think of them when they think of Sumter.  But they aren't the only barbeque in the area by a long shot.
In fact someone who purports to know told me that Bar-B-Que Hut was a Ward's at one time but, if so, they have gone their own way, barbeque wise.  Bar-B-Que Hut is primarily a barbeque buffet restaurant but on the weekends you order from the menu. 
Their claim to fame in the Sumter area is their corn dodgers (as they call them) which are large, oval pieces of fried cornbread.  They sell them by the half dozen and the dozen to go and they are a dollar for 6!  Can you beat that?  When I go to Bar-B-Que Hut I always get a half dozen to take home since my wife loves them too. You'll be pleased to know that they put two of them on your plate when you get the dinner.
The barbeque is not pit cooked in the traditional sense, over coals, but rather it is cooked as nine out of ten do it nowadays, in gas cookers.  But it has a pleasing flavor if you like your sauce a little sweet and they do a good business with lots of regulars coming back for more.  They are definitely worth your going by to check it out.