Daddy Joe's Beach House BBQ & Grill
Address: 1400 W. Floyd Baker Blvd., Gaffney, SC 29341
Phone: 864-487-7427
Web site: http://www.daddyjoesbbq.com
Cards: yes
Hours of operation: 11am-10pm Monday-Thursday; 11am-10pm Friday & Saturday,
Closed Sundays
Worth a long trip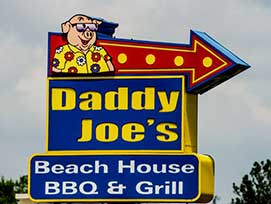 Daddy Joe's in Gaffney is an institution, and the parking lot is always full. There is a good reason for that.
I'm not sure if Daddy Joe's started off to be more of a fish house than it is currently but on the menu there are only a few "Beach Dishes," as they term them – Calabash shrimp, flounder and Calabash chicken. But on Thursday night they do have live music (beach music presumably) and oysters and shrimp on special. So there is no complaint there even if it doesn't have a lot of seafood choices. What they do have is lots of sandwiches (grilled chicken and burgers) and lots of appetizers and lots of other choices.
And then there is the barbeque. Daddy Joe's has a large smoker and they do chopped (not pulled) pork and ribs plus smoked, pulled (not chopped) chicken. All of those choices are good ones.
They have an upstate vinegar and pepper red sauce that has a bit of heat and spice to it and they also have an even hotter edition of their sauce on each table for those who want to punch it up a bit. Both of these sauces are very good. However, when you order your barbeque tell them to serve the sauce on the side so you can try it both ways. When you order the ribs it is most important that they serve the sauce on the side as their rib sauce seems to be a Cattleman's knock off and it does nothing for the ribs, whereas their house barbeque sauce actually enhances their barbeque. The ribs, by the way, start out with a dry rub and they are smoked very well. My only complaint was that they were not meatier. Their smoked chicken was a hit too. You don't see that in too many other places.
They also have a good variety of sides including two home-made slaws: coleslaw and BBQ slaw. While both are good and fresh my vote went with the BBQ slaw, so much so that I got an extra pint to-go for my wife who loves that red slaw found mostly in the upstate and in North Carolina. If you get their regular coleslaw and want to see what their BBQ slaw is like just mix in some of the hot sauce that is on your table and you get a good approximation.
They also have hushpuppies that almost stole the show. Again, I got an extra order of them to take home; they were that good. The wife loved them.
I also had the baked beans which were reasonably good if nothing special and their potato salad is so much in demand that they do a good takeout of that side too.
Daddy Joe's is decorated in an amusing "beach" fashion with sturdy tables as well as booths plus a small outdoor area for those days when alfresco is doable. There are lots of old signs around (real old ones not the new reproductions) and my waitress was remarkably attentive. Plus some other lady came by to check on me too. I was impressed.
You can get onion rings, fried pickles, chicken strips, fried zucchini, and those wonderful hushpuppies in a variation with jalapeno and cheddar with a dipping sauce. In fact, there are lots and lots of choices at Daddy Joe's and they all range from good to very good to excellent.
Daddy Joe's may not be a 100 Mile BBQ joint but it is certainly worth a very long trip.