Moe's Original Bar B Que
Address: 12827 Ocean Highway, Pawley's Island, SC 29585
Phone: 843-235-8008
Web site: This email address is being protected from spambots. You need JavaScript enabled to view it.
Cards: yes
Hours of operation: daily lunch and dinner
A chain operation that makes the 100 mile ranks!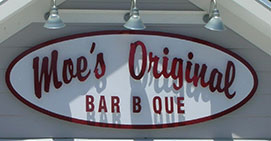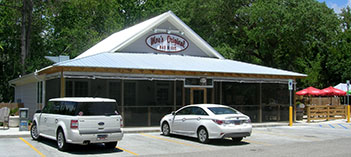 One of our Master Judges send me an email after eating at Moe's in Pawley's Island and said, "I have a new 100 Mile barbeque for you!" I was dubious because I had heard of Moe's and I knew it was a chain. So far no chain operation had made the 100 Mile ranks except Maurice's, of course, but that is actually a multi-restaurant family owned operation. There is a reason that chains don't usually measure up but Moe's comes close to overcoming that obstacle.
Chains are generally franchise operations that use some standard cooking equipment the franchise headquarters ships in that is not up to 100 Mile standards. But Moe's, at least the one in Pawley's Island, has a large, wood burning, Old Hickory cooker. Those cookers may be mechanized for easier handling of the large amount of meat they must handle, but it does the initial cooking with wood and with a controlled low temperature. Low and slow and in a pit over wood, that's the ticket. The pit doesn't have to be made out of cinder blocks to qualify; it can be stainless steel too, but it must be low and slow and over wood. The only thing that puts Moe's in the Worth the Trip category rather than the 100 Mile category is that they only cook their barbeque for about 4 hours over wood than finish it off over electricity. The truth is, cooked that way almost no one could tell it from true 100 Mile Barbeque. The taste is excellent.
They must also have a classically trained chef in the back because every side dish that came out of the back (and there were three of us and we all purposely ordered different sides so we could all taste and share) ranged from good to very good to excellent. The only disappointment was the "cornbread" that came on each plate and when we all saw it we thought it was Texas Toast but when we ate it we learned it was cornbread. Actually it was "Georgia pound cake" as that overly sweet cornbread is called. It was good Georgia pound cake, however and it was so good it could substitute as real pound cake so you wouldn't have to order any dessert.
As a side we had Brunswick Stew (very good but like all Brunswick Stew done to the chef's individual taste), real collards that had not been sugared to death, great baked beans, a homemade marinated slaw that we all really liked, tasty green beans, and a squash casserole that stole the show. Our least favorite was the mac and cheese that we thought was a bit bland. It was good, however, so if that was our biggest complaint then you can see just how good everything was. If you have a vegetarian in the crowd (why would you be hanging around with one of those?), they even have an all-sides platter of just those great veggie sides.
But the real hit was the barbeque. The ribs were fall-off-the-bone tender and not over-sauced. The barbeque was smoked just right, tender and very good. We all gave the ribs the top spot even over the very good barbeque so those are not to be missed. The barbeque came with only a small squirt of their low country red vinegar and pepper sauce on top so even though I forgot to tell them to put the sauce on the side (as we should all do), I got to taste the barbeque. If you want to try the sauce, and I recommend it, then they have squirt bottles on the table and they even keep extra bottles in a heated crock pot on a serving tray (now that's a first!) for you to take to the table. The sauce actually does compliment the barbeque but like all Worth the Trip barbeque it is best eaten as it comes off the pit.
Great barbeque, great ribs, great sides, new clean restaurant, and a very pleasant ambiance: What more can we ask? Well, there is more. They are expanding the outside seating and enlarging the bar so Moe's will be even better. I hope the other Moe's, wherever they are, do as well.