Sandy Ocean Bar-B-Que
Address: 1951 Hwy 15-401
West Bennettsville, SC 29512
Phone: (843) 479-2278
Cards: yes
Hours of operation: Tuesday – Friday, 11:00 -2:00, Sunday Buffet, 11:00- 3:00pm
Thank goodness for Sandy Ocean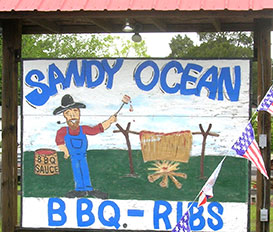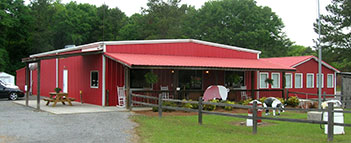 Marlboro County is not known for its excellence in barbeque (see the review on Stanton's, the oldest barbeque restaurant in that area, for some thoughts on the subject), so it must have been a welcome event when Sandy Ocean Bar-B-Que was re-opened. I say "re-opened" because it had been there for a number of years before Randy Sheppard, who owned the place and cooked the barbeque, closed up. He then leased the business to a new owner for a re-opening. He continues to cook the barbeque, however, which he does in an Old Hickory smoker.
Sandy Ocean is not a buffet but rather you order from a menu and they bring it to your table. The service was fast and friendly and my waitress was very attentive.
The barbeque at Sandy Ocean is pulled pork and it is juicy and smoked just right which is way different from the other two so-called barbeque houses in and around Bennettsville. They have two sauces which they bring to the table with your plate in small plastic cups. They have a mustard sauce that is suspiciously like Cattleman's and their own Pee Dee style reddish vinegar and pepper sauce. The vinegar and pepper got my vote and it had enough pepper in it to give is some pleasant bite. It would do itself quite well in any comparison with other light tomato vinegar and pepper sauces anywhere. However, the barbeque was good enough to forgo the sauce.
The barbeque plate comes with beans and slaw and the slaw is creamy, home-made and quite good. The beans were the small, tasty kind and I cleaned my plate of everything.
They serve a number of other lunch plates and sandwiches (all the way down to grilled cheese sandwiches) and on Fridays they have ribs. Unfortunately, they are not open on Saturdays but they do open again on Sundays for lunch until 3:00 pm. They only serve at lunch time with no dinner served.
They have a reasonably stocked dessert bar with banana pudding (which I liked), chocolate pudding, lemon cake, pound cake plus some other goodies and even a serving of chopped pineapple for the fruit lovers.
I was there at about 12:30 and they were doing a brisk business for a Wednesday. The customers were all locals and they all looked very happy. After I ate the barbeque I was quite happy myself.
The restaurant is decorated in a country theme with lots of interesting things on the wall to keep you amused during the short time you have from when you place your order to when they bring it. They had a stuffed deer head, stuffed fish and various old signs most of which are genuinely old rather than the ones new restaurants buy nowadays just for show. The outside of the restaurant also has some eye catching instillations that should help entertain all of your children as well s you.
Sandy Ocean Bar-B-Que is a worthy addition to our Worth the Trip lineup and it's the best barbeque in that area all the way from North Carolina through Bennettsville down to Hartsville which is in the next county over, so we are talking the best barbeque for twenty five miles or so in either direction. Go there and get happy.