Nick's Original Walk-Up BBQ
Address: 288 King Street, Charleston, SC 29401
Phone: 843-577-0406
Web site: www.nicksbarbq.com
Cards: yes
Hours of operation: 11:00am – 9:30pm, Sunday – Friday, closed Saturday
I'll be going back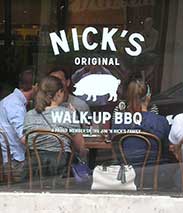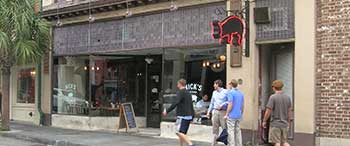 Nick's Original Walk-Up BBQ is located in the heart of Charleston on King Street. King Street is sort of an old Charleston Street while Meeting Street, which is one block over, is more of the tourist destination and the people sitting around in Nick's at lunch time seemed to testify to that.
Nick's says on its menu that it is a "proud member of the Jim 'N Nicks Family which means that it is affiliated with some other Jim 'N Nick's restaurants in North Carolina, Alabama and other places. I gather from the name that it was the first of the Jim 'N Nick's family but I don't know that.
So many people have asked me if I had ever eaten there that I knew that I had to try it the next time I was in Charleston. It was quite a meal I will admit. But there are a couple of negatives.
Walking to Nick's for the locals is fine but if you drive there then you've got to find a parking garage because getting a parking place on crowded Charleston streets is virtually impossible. Luckily there is a parking garage only one block away to the west but then you have to factor the (minimum) $2 parking fee into your total. And speaking of "your total" that is one of the negatives. I ordered a combination plate of pulled pork and ribs but therein lies a rub. They have combination plates of two, three and four meats, which include chicken and beef brisket, hot links (sausages), turkey and Buffalo wings, but none of the combinations offered pulled pork and ribs. The ribs are available, of course, but there is a two dollar surcharge on top of the $17 two meat plate charge. In other words, pulled pork and ribs will set you back $19, which may be more than you want to spend on lunch. This plate comes with two sides and I ordered slaw and Brunswick stew. Since Nick's is in the red sauce tradition rather than the mustard sauce tradition there was no hash. They also include two cheese biscuits on the order and, believe it or not, the cheese biscuits were the hit of the meal.
I also ordered tea and that added another $2.25 to the total before tax. Lunch then was around $25 when you include the $2 parking fee.
But how was the food? Well, it was very good. The biscuits, as I've already alluded to, were the best I've ever had and I make a pretty good biscuit myself. They were so good that I asked for two more to be placed in my take-out box. And yes, there was so much food on my plate that I needed a box to go and I noticed that others did too. I also noticed that there was one couple there who shared a plate, more properly called a tray, since the meal was served on a paper set on a metal tray. My guess is that given the amount of food you get there, this is a general practice.
My two sides were Brunswick stew and slaw. The Brunswick stew was excellent. All Brunswick stews are seasoned a little differently one from the other depending on the recipe and this one was top notch. The slaw was fresh made and a very good creamy slaw that wasn't too sweet at all.
The ribs on my tray were very tender and smoked just about right. I say "just about" because I thought they had a tad too much smoke but most people would probably find them excellent. They were large and juicy and there were four of them. Indeed, I ate two and took two of them home. They were served with a couple of sliced sweet pickles on top which I thought was a nice touch.
The barbeque, on the other hand, was a bit on the bland side. I couldn't taste any real barbeque flavor, just light smoke. So, as I seldom do, I added some of their sauce. That made it slightly better. The sauce, by the way, is in the tradition of our Pee Dee red sauces and I thought it was good. It just didn't quite compliment the meat as well as some others I've have tasted.
Looking over the menu told me that they take lots of pride in their fare and they put in lots of work to make it right. The next time I go back, and I will go back, I plan to try some of the other listed choices, and that list is long – chicken, beef brisket, turkey, pulled chicken, sausages, various sandwiches including pimento cheese, various enticing sounding hamburgers, salads and even a Greek salad. If any of the other dishes are close to as good as the cheese biscuits, Brunswick stew and the ribs then there has to be much to enjoy at Nick's.