Music Man Bar-B-Que
Address: 112 E. Railroad Ave. , Moncks Corner, SC 29461
Phone:843-899-PORK (7675)
Web site: http://www.musicmansbbq.com/
Cards: yes
Hours of operation: Monday, Tuesday, Wednesday &
Sunday11:00am-2:00pm,Thursday-Saturday, 11:00am-8:30pm
The locals love it and that's a good sign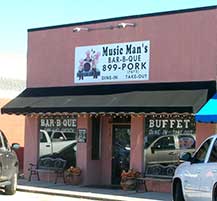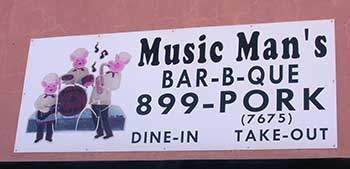 Music Man Barb-B-Que in Moncks Corner was doing a very good business at 1:15 when I got there. There were three Berkeley County deputy sheriffs at one table, eight Berkeley Electric Co-Op men at two other tables and lots of obvious locals, men and ladies, eating lunch. All had big smiles on their face. That is always a good sign.
Music Man has music as the name implies but only once a month and then only on "Steak Night," not on a barbeque night. There is a big mural on the wall that says, "I love beach music" so that is probably a good indication of the music. Steak night is reservations only. There is a large bandstand set up inside so it must be a big deal but, of course, I was there on a Friday so no music for me.
Music Man does two kinds of barbeque, vinegar and pepper and mustard. Given their location that is not unusual at all. A good number of barbeque restaurants in the low country do that since they often times straddle the mustard-vinegar and pepper divide in their area. Of the two my favorite was the mustard and the sauce that they serve on the side complemented the barbeque very well. I didn't care for the vinegar and pepper quite as much as the mustard but my guess is that vinegar and pepper aficionados will like it. They also have a hot sauce that was hot enough to make it worthwhile. It tasted like a cayenne based hot sauce (which is plenty hot for most spicy barbeque lovers) mixed with black and red peppers and it did pick up the vinegar and pepper barbeque quite nicely.
They do ribs as well as barbeque but they serve those only on Saturday.
The vegetable hit on the nice buffet they have there was the potato casserole. If I hadn't eaten so much barbeque and other good foods I would have gone back for more. They have nice sweet potatoes and a great cherry tomato and cucumber salad. The coleslaw was freshly made and good but just a hair too sweet for me but I'll bet the locals love it.
The only dessert was banana pudding but that was good enough even though it tasted as if the basis was a commercial premix.
For me the surprise hit on the buffet was the fried chicken. It was dipped in a great tasting milk batter and boy was it good. In fact the next time I'm in Moncks Corner I'm starting out with the fried chicken!
All in all, Music Man makes the Worth the Trip category quite nicely. I've long since learned that the counties' deputy sheriffs know where the good stuff is.