Palmetto Pig Bar-BQ
Address: 530 Devine Street, Columbia, SC 29201
Phone: (803) 733-2556
Cards: yes, no checks
Hours of operation: Tue. & Wed., 11-2:30pm, Thursday – Saturday, 11-9:00pm
"Now that's my kind of hash."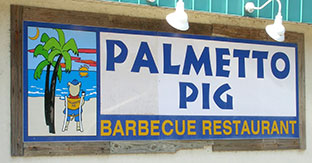 Palmetto Pigs in Columbia is an interesting barbeque story.
Back in the 1980 there was a sandwich shop, Shealy's, on Assembly Street in Columbia that did a standing room only business. The sandwiches were good and the shop was right across the street from the state capital building and other state office building, which offered a large, ready customer base. Then the Shealy's sold that valuable property and moved a mile or so away deep into an industrial area. I thought that would be the end of their business. But their new place did a standing room only business too. I was amazed.
Then the Shealy's decided to hang it up and sold their building and business to a man who has some family connection to the Dukes family in Orangeburg. I figured then that would do it once and for all and they would go out of business given the poor location. Boy was I wrong. Palmetto Pig is still packing them in, despite the location, and there is always a line at the door.
At Palmetto Pig you get Duke's fare – a buffet line with barbeque, rice and Duke's famous hash which is not the grayish hash like that usual found in restaurants that serve mustard based barbeque, but a reddish style hash that thousands of people think is the finest in the state. Plus there are vegetables galore on the serving line
The barbeque is cooked on gas cookers so it isn't the best around but they always seem to do something to their barbeque at a Duke's that makes it better than average. At the Columbia Palmetto Pig it is the vegetables and sides that make the place, plus the generous servings (you go down a serving line and they help your plate) along with their hushpuppies (I always get several) and their reddish hash. Plus there is the fried chicken that many go there just to get.
It may not be the state's greatest barbeque, but you won't go away dissatisfied from Palmetto Pig.