Mutt's
Address: 1020 Powdersville Road 29640
Phone: (864) 442-1400
Web site: muttsbbqeasley.com
Cards: yes
Hours of operation: Mon. Thu. 11:00 – 8:00; Fri. – Saturday 11:00-9:00
This is a buffet that is not to be missed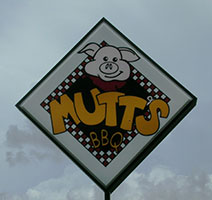 Mutt's in Easley is a sister operation to the one in Greer. There are other Mutt's that are franchises but they probably all follow the same recipes but then, maybe not, so it's good to check them out.
Mutt's in Easley is a large restaurant and it needs to be during rush time: People flock there and if you sample everything on the buffet you will see why – it's all good. The sweet potato soufflé is so good people stop by and order large pans of it to go. The same for the mac and cheese.
The buffet also has fried chicken, baked chicken and a large variety of vegetables which they mostly do there themselves. One of my favorites is their slaw which they make up daily and the Brunswick stew is not to be missed.
But the real star of the show there are the ribs which, thank goodness, are not drowned in some thick sweet sauce as they are in so many places. At Mutt's you get dry ribs that pull right off the bone and they are delicious. If you do want a sauce Mutt's has five from which you can choose. I prefer the thinnest one, I forget what they call it, but while the mustard sauce was actually good, it didn't enhance the barbeque which was good just they way it was served.
Other hits at Mutt's were the hushpuppies and the banana pudding, one of the limited dessert offerings but then after all that buffet and barbeque, who needs anything besides banana pudding?
After the Mutt's in Easley I'm looking forward to trying the others.