Kelly's Barbeque  
Address:  10475 Highway 78 E, Summerville, SC
Phone: 843-871-3050
Web site: www.kellysbarbq.com/
Cards: yes
Hours of operation: W-Sat. 11:00am to 8:00pm
I go every time I'm nearby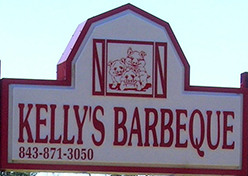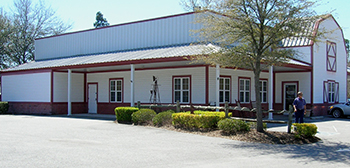 Whenever I get close to Kelly's I always stop in.  It may not be 100 Mile barbeque but it is very much worth the trip and such a treat that I can't resist it.  I should quickly point out that Kelly's has very good ribs and they are on the buffet but you have to go on a Wednesday to get them.  I always get two when I go because they are so good but I don't pig out as some of the people there I've seen (I've seen plates taken to the table in Kelly's that would embarrass me if someone brought it to me and sat it down…but when you consider how good everything is at Kelly's, I don't blame them) and the reason I don't pig out on these tender ribs is that I want to leave room for a variety of great items. 
When you go you will find out that Kelly's has one of the best buffets in the state.  If I told you that the salad bar had everything you could want including mounds and mounds of pickled okra would that, more or less, convince you that you've come to the right place? 
Well, on that buffet are all the vegetables you could want and they range from rutabagas to peas, beans, cabbage, corn and you name it.  They also have Red Rice which is a low-county specialty.  Plus there are several different casseroles there for your pleasure and casseroles are always my favorites.  They also have fried and barbequed chicken, along with sausages and assorted other delights. I think as many people come for the fried chicken as the barbeque.  As you sample a little bit of each thing you have put on your plate, you'll see why Kelly's is always doing a big business.  The locals know how good it is it and they turn out in force.
There are some things at Kelly's that you don't want to miss: the skins for one.  Those are some of the best crispy skins in the state.  Plus they have cracklings too.  The cornbread there is a little sweet but not to the point of being Georgia pound cake, but then you also have a variety of other bread choices.
Their sauces are three, one they call "Spicy" which isn't very, a mustard sauce and a "mild."  Only the spicy is of any use as the mild and the mustard sauce take away from the barbeque rather than enhancing it.
Then there is the dessert bar which has the best commercially made pound cake on it I've had around the state.  I know it's institutional as is the pecan pie, but both are so good, well above average really, that I can't resist adding a small piece of both even after I've finished off a large plate of everything else.  Of course there is the ubiquitous banana pudding, which is, frankly, not very good.  They follow the bad example of so many other barbeque houses of having only an artificially flavored banana pudding rather than a real custard with a few bits of banana and vanilla wafers mixed in.  I would pass that up for the much better peach cobbler or do as I do, which is go straight for the pecan pie or the pound cake.
If you are near Summerville there is absolutely no reason in the world why you shouldn't stop in at Kelly's.