Big Al's Old Time B B Q
Address: 2131-A Woodruff Road, Greenville, SC 29607
Phone: 864-627-4227
Cards: yes
Hours of operation: W-T-F-Sat. 11:00am to 7:00pm 
100 Mile chicken wings, believe it or not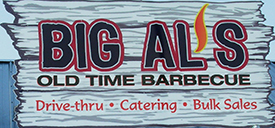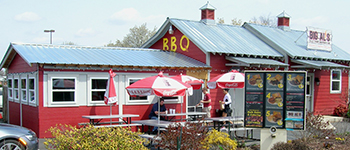 What a pleasant surprise this newish barbeque house was.  (And you should be aware that this Big Al's is in no way connected to a Big Al's that was once between Greenville and Spartanburg and is now out of business.)  This Big Al's started out as a drive-through and take-out only but they are expanding and adding some inside seating, plus they have four picnic tables on the outside for good-weather seating.  But that's not the real surprise.  The real surprise is how good some of the items they feature are.
First of all, when you come up to the window to place your order, Pat Schweitzer, Big Al's upbeat friend sand helper, gets you a small paper tray of samples so you can see what you might want to order.  Nowhere else can you find that kind of treatment!  I tried the barbeque, the Brunswick stew, the slaw and the chicken wings – yes, chicken wings.  They are the only place that I know that barbeques chicken wings and they are wonderful.  In fact, those wings and the ribs, which I will get to shortly, are the hit of the house.  I would travel many miles to get a plateful of those slow smoked wings.
On the menu they offer a two meat and a three meat combo plate and both are reasonably priced.  You can also get a plate called Big Al's Wings (6 wings), Slaw & Chips plus a Big Al's Famous Ribs, Slaw & Chips or any one of another dozen or so item and combinations.  In fact my guess is that those nice people would fix you up with any combination you want.
The ribs were, just like the smoked wings, a wonderful surprise.  They are dry-rub ribs and that is hard to find in South Carolina.  Melvin's in Charleston serves them and Sticky Fingers has them offered on their large menu but Big Al's are exceptional.  They are worth a long drive when the craving hits or a rack of ribs.  Of course, you don't have to get a whole rack.  You can get a half rack or a rib plate or barbeque with ribs or a plate with chicken and ribs which is a combination you are not going to find anywhere else.
But on to the barbeque.  Unfortunately the barbeque was, to my taste, below average.  Maybe it just seemed so next to those ribs and wings but I tried it with their three sauces and was disappointed all the way around, which brings me to the sauces.  There are two on the table.  Both have a Cattleman's base and are to be avoided.  However, the third sauce is a vinegar and pepper sauce that you have to ask for.  That is the one to get.  It improves the barbeque a bit and a little dip of a dry-rub rib in that sauce is a winner, believe it or not. 
Al and Pat are on the right track on most things but they are both handicapped and blessed by being from out of state.  They are blessed in that they are willing to try something different (smoked wings and dry rub ribs, for instance) and this really shines in the coleslaw too.  They have some Texas-style coleslaw, not Tex-Mex but from an old German style family recipe that is simply one of the best I've had in South Carolina, or anywhere for that matter.  It is not a creamy or mayonnaise slaw (both of which I like) but a crunchy slaw of vinegar and spices that you are really going to like.  I commented on it to Pat and she said they sell many pints of it each week as a single item to people who come by just to pick it up and take it home.  I can see why.
Their "hash" is not actually a hash as we know it in South Carolina.  It is really more of a Brunswick stew so don't order that expecting a local-style hash.  But then, you already tried some when you were given your samples so you know what it's like before you order it.  It's not bad, in fact it's pretty good, and since I'm a Brunswick stew fan I had no complaints.  But "hash" it ain't.
Another good thing about being from out of state is that their beef brisket was very good.  Good beef brisket is hard to find in South Carolina but at Big Al's it's good.
The next time I go to Big Al's, and that will be the next time I'm in Greenville, I plan on getting a two-meat combo, ribs and wings, along with a double serving of slaw and baked beans.  That and a large iced tea and a piece of Pat's genuinely home-made pie, which she calls, Miss Pat's sinful Peanut Butter Pie, should do me for both lunch and dinner.
I recommend you try it too.