BBQ Barn
Address: 605 Atomic Rd., North Augusta, SC 29841
Phone: 803-278-7202
Hours of operation: Monday – Saturday, 11:00am-8:30pm
Cards: yes
"Great barbeque in a place that really needs it."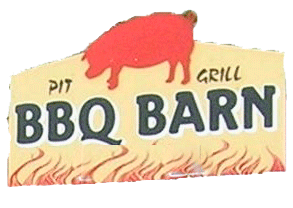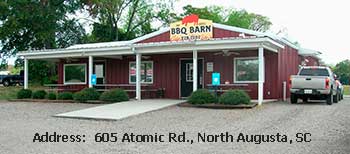 North Augusta has never been known for its barbeque. For that matter, neither has Augusta, Georgia. So, thank goodness for BBQ Barn! Now there is real barbeque in North Augusta.
BBQ Barn is only nine years old as of this writing (2015) but it brings a great barbeque to a barbeque starved populace.
BBQ Barn in North Augusta serves a plate to you with a choice of pulled pork and ribs and lots of sides that they make themselves. And boy do they pile it on! I had the large plate (a small plate is available) and had to ask for a doggy bag.
Like most places today they use a pit that has the heat (mostly) controlled by gas, but that pit has a large wood box connected to it that supplies both heat and smoke so that you get a slow cooked, wood smoked barbeque that is almost 100 mile barbeque.
While ordering I spied a large cooler with coconut cake and I asked where they get their deserts. "We make all of them here," was the proud reply. And while I seldom get any sweets at a real barbeque place, except for a few spoons of banana pudding or a peach cobbler if it is season, I made a note to come back for some of that coconut cake. When I did the young man helping at the counter cut off a piece of cake that was impossible to eat all at once. I've never seen a larger piece of cake offered in any public restaurant. I had to take half of it with me in another doggie bag. But it was so good that I got the price for a whole cake (only $30) and noted that while it may not be exactly 100 miles from my house (it's only 86) that was 100 mile cake!
They also have all sorts of other truly homemade desserts such as Happy Cake, Girdle Buster (a Paula Deen restaurant recipe), Banana Split Cake (a big crowd favorite) and about a half dozen more if you can find the room. Maybe the plan should be to order the small plate and save some room for dessert. That's what I do now when I visit.
And while the deserts are not to be missed, don't forget that it is the barbeque and ribs that you came for and they are still the star of the show.
The ribs were excellent—smoky and tender and not covered with any sauce. And that is another thing, the barbeque comes without any sauce from the kitchen and happily so because it doesn't need any.
Nevertheless, there are four sauce dispensers on each table. There are two vinegary red sauces that are similar to the red vinegar and pepper that one finds in the Pee Dee region of South Carolina, and two mustard style sauces. And while the mustard sauces (mild and spicy) are actually good, the vinegar based sauces (mild and spicy) are better. Indeed, if you do want to add a sauce I recommend either of the red sauces. But, again, the barbeque is actually too good to mess up with a sauce. And, as I say, the ribs don't need a sauce either although it was fun to try them with a little sauce just to see how the combination tastes.
All of this, as I said, is good news for that area. Aiken has always had, or at least for the last 40 some odd years, Carolina Barbeque in New Ellington about 10 miles outside of Aiken and great 100 mile barbeque it is. And thank goodness. But Augusta and North Augusta are a bit of a drive from New Ellington for the average person if they just want to have lunch. Now they can stop in at the BBQ Barn when they have one of those all too familiar barbeque urges. You try it too. Just come hungry and you will be well pleased with your trip.