The Pink Pig
Address: 3508 South Okatie Hwy, Hardeeville, SC 29927
Phone: 843-784-3635
Web site: the-pink-pig.com
Cards: yes
Hours of operation: Tuesday-Wednesday and Saturday, 11:00am-3:00pm,
Thursday-Friday, 11-3 and 5-7:00pm
"A fun trip"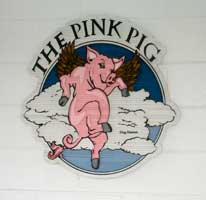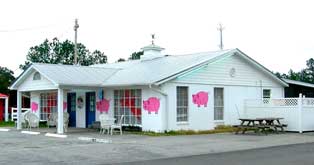 The Pink Pig is a bit out of the way but it's not so far from I-95 or Savannah, Georgia that it can't be gotten to easily enough. Indeed, the writers of Southern Living, Travel and Leisure and The Sandlapper Magazine, among others, have made the trek to taste the fare. And tasty it is.
The Pink Pig is a low country eatery which is near the coast so it offers Brunswick Stew as one of the sides with your meal or as a dish in itself (gets some), along with some sea food such as shrimp and flounder. They will also make up the standard hamburger and cheeseburger along with fish sandwich and chicken finger sandwich if you wish. But it's the barbeque that you need to go for.
The Pink Pig has four different sauces on the table for you to try. They also automatically put some "original" sauce on the barbeque you order but you don't want them to do that, so be sure to tell them to leave the sauce off. That way you can try a little bit of each of the four sauces on your barbeque and see which one you like best. It's fun!
The four sauces are: Low Country Fire which is a bit spicy but it isn't as hot as its name implies and is more like a Pee Dee thick tomato sauce; Original Honey Mustard in which I didn't taste any honey but it was very good anyway; Original Gullah Spice which is a red sauce and Sweet Vermont Sauce (Vermont!, how did Vermont get in there?) which is, as you would expect, quite sweet. All of the sauces tasked like quality so you decide which one you like best.
The pork is slow cooked and it is as juicy and tender as you will ever find it. The flavor is such that after experimenting with all of the sauces I ate mine without any sauce to distract me from the flavor of the meat.
The Pink Pig offers a few sides but they are the usual ones you need such as Baked Beans, Coleslaw, French Fries, Hush Puppies and the mentioned Brunswick Stew. I recommend the Hush Puppies and Stew, by the way, but they were all good.
But it's the barbeque you come for and that is the treat. It may not be 100 mile barbeque but it is certainly worth the trip.