Prosser's
Address:  3750 Hwy 17, Murrell's Inlet, SC 29576             
Phone: 843-357-6146
Web site No
Cards: yes
Hours of operation: Mon-Sun, 8am-2pm; Thu –Sun, 5pm-8pm
Good reputation, great buffet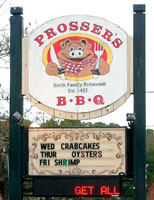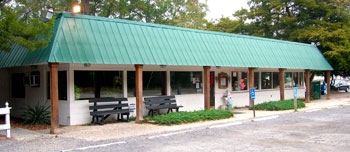 Prosser's has been dishing it out at the same location in Murrell's Inlet since the 1960s.  Their barbeque is good and their sauces are so good that they have been on the shelves in various food stores across the state for years.  But barbeque is not all there is to Prosser's by a long shot.
Murrell's Inlet is really the seafood capital of the east coast.  For generations people have flocked by the dozens to the seafood houses that front onto highway 17 that runs through the town.  Indeed, if you took away the restaurants Murrell's Inlet wouldn't be a town at all, just a few houses and a couple of shops.  As you make your way down highway 17 the names of legendary restaurants pop up one by one – Lee's Inlet Kitchen, Nance's, Inlet Crab House – but then there is Prosser's, the only barbeque house in the area.
Actually, Prosser's has a wonderful and large buffet that serves both their brand of barbeque and seafood too.  So, if you are there and your companion doesn't want barbeque they can always dive into the two kinds of shrimp, crabs and oysters that are offered up to hungry patrons.  Indeed, when I eat at Prosser's I always get a few of those always fresh, briny, oysters that they have.  Plus, on various nights they serve up heaps of seafood along with their barbeque and many people head to Prosser's rather than some of the other famous seafood houses just because their buffet is so well done. Just check out their sign out front to see what is on the menu for whatever night you happen to be there.
And speaking of "night" and restaurant times: Prosser's is open for breakfast and lunch seven days a week but it serves dinner only on Thursday through Sunday.
I like the barbeque at Prosser's but it is not 100 mile barbeque.  It is what one expects now from restaurants that don't pit cook.  But the barbeque is good and it is worth the trip, especially when you get to try all of the various Prosser's sauces they keep on the table.
And don't forget the sides.  Their macaroni and cheese is like home-made, their lima beans are a hit, their slaw is fresh made, and their apple-pineapple cobbler is great.  In fact, there is hardly a thing on the buffet with which you will find fault.  I especially liked their hush puppies and their deserts including their banana pudding and red velvet cake.
If you are in Murrell's Inlet and you want good barbeque and some good seafood, then put Prosser's on you list.