Radd Dew's
Address:  3430 hwy 701 South, Conway, SC 29526           
Phone: 843-397-3453
Web site: No
Cards: yes
Hours of operation: Wed.-Fri. plus Sunday 11:00am – 2:00pm for lunch,
Thursday-Sunday 4am-9pm.
Like it was in the 1960s, thank goodness.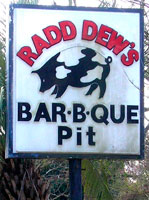 Radd Dew's isn't much changed since it opened in the 1960s except the way the barbeque is cooked.  Back then it was pit cooked and it became a legend, but like so many other barbeque restaurants they succumbed to the temptation of less work and lower cost and converted from pit cooked to cooked indoors in commercial cookers.  However, the taste is not that far off from pit cooked the was it was in the past.  It's just not 100 mile barbeque but it is worth the trip, especially when you consider the sides on the buffet.
At 11:45 that last time I was there the parking lot was filling up and that was on a Thursday.  The regulars, and almost all of the people who eat there are regulars, were starting to stream in.  They know just what a treat Radd Dew's buffet is.
The barbeque, as I say, is good and the vinegar and pepper sauce compliments the barbeque well.  But it is the homemade biscuits, the macaroni and cheese just like your mother and grandmother made, the lima beans, the collards, the sweet potato soufflé and all of the other sides that let you know that you are in for a treat.
They even have a locally made link sausage to go along with their fried chicken and chicken bog just in case you can't make up your mind as to what to emphasize for your meal.  They have the usual Pee Dee style hash, okra and tomatoes and other down-home sides that make a trip to Radd Dew's a treat even if they are not dishing out the pit cooked product that made them famous.
The locals know what they are doing and you will too when you give Radd Dew's a try.