Little Pigs Bar-B-Q
Address:  6102 Frontage Rd., Myrtle Beach, SC 29577
Phone:  843-692-9774
Web site: No
Cards: yes
Hours of operation: Monday – Saturday , 11:00am -8:00pm.
A little gem in an unlikely place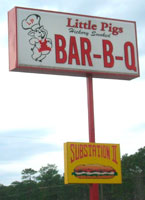 Myrtle Beach is a seashore town and people come for fun and seafood, and that's as it should be.  The problem with that, however, is that Myrtle Beach has never been known for having any really good barbeque and sometimes you've just got to have a barbeque fix.
When I asked a couple of our judges who live in the area about the barbeque situation they both instinctively replied, "Myrtle Beach doesn't have any good barbeque."  But then, on reflection they both agreed that the best was actually at a small, unassuming restaurant that sits in a little strip mall next to a sub sandwich shop and liquor store, all of which are behind a gas station.  Pretty unimpressive company, all in all.
The address is 6102 Frontage Road but that is actually because the gas station faces Frontage Road and the Little Pigs eatery is actually behind the station.  Nevertheless, it is best spied from Highway 17 North right where Avenue 62 crosses Highway 17.  The sign is turned so that traffic on 17 North can best see it.
This is a small place where you give your order, they fix your plate and you pick it up at the counter.  It may be a bit on the fast-food side of service style, but when it comes to barbeque you are going to be in for a pleasant surprise. 
They cook their hams and butts slowly for 18 hours in a Cookshack smoker and they serve it hot and juicy with a wonderful hickory smoke flavor.  When they fix your order it is taken out of the cooker and chopped up right then.  When you hear the chopping stop you know your order is nearly ready. My only objection to the barbeque at Little Pigs is that they don't serve ribs.  If they did ribs and if their ribs were as good as their barbeque, they would be THE place for barbeque in Myrtle Beach.
At the counter when they take your order they will ask you what sauce you want.  For heaven's sake tell them to leave the sauce off.  The barbeque at Little Pigs is best eaten as it is, unencumbered by any sauce.
If you want sauce, however, they have four for you to choose from and they are sitting out at a service counter with little cups you can use to try them all.  I tried each one and found that both the vinegar and pepper and the mustard sauce were quite nice, it's just that the barbeque is so good it doesn't need any sauce.  They have one that they label as "Spicy" and another that is "Mild."  I didn't think the Spicy was very spicy at all and the Mild simply wasn't as good as the vinegar and pepper or the mustard sauce.  But you will probably have fun trying all of them just to see for yourself.
They have great hush puppies but the problem is that they count as one of the sides you get with a plate.  Since you only get two side orders with a plate that poses a bit of a problem.  You see, they put a whole toasted hamburger bun on your plate too so if you order hush puppies you get two kinds of bread plus you had to sacrifice one of your side choices to end up with that combination.  I wish they gave you a choice of either hush puppies or bread instead of making the hush puppies a side.
Other than that objection I found no faults with any of the other sides.  The slaw, freshly made, was as good as it gets and even their French fries were quite good too.
Our local judges were right; Little Pigs is probably the best barbeque in Myrtle Beach