Riverside Bar-B-Que 
Address:  1590 Oatland Road, Georgetown, SC 29440
Phone: 843-527-3442 and 843-833-3262
Cards: yes
Hours of operation: Friday and Saturday, Noon to 11 pm
Best thing to happen to Georgetown since Yum Yum's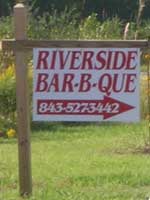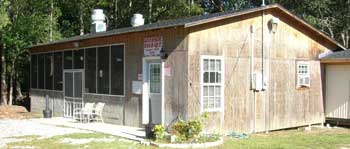 Erven and Linda Jones are so nice they make you feel right at home immediately and then they serve you genuine pit cooked mile barbeque to boot.  The only thing wrong with Riverside Bar-B-Que is that they don't have indoor seating.
At Riverside you order from a menu and that menu includes not only do barbeque and ribs but they also chicken and pork chops.  They serve two sauces, both vinegar and pepper but one is hotter than the other.  Both are very good.  Their sides include slaw, potato salad, butterbeans and all sorts of vegetables in season.
Riverside is in the Browns Ferry area of Georgetown County (their house and property is on the Black River, hence the name) in a community called Browns Ferry and their address is 1590 Oatland Road, which you are going to need to find their place with your GPS or MapQuest.  Not that it's hard to fine, indeed, you simply turn off of SC Highway 51 onto Oatland Road and go one and one half miles to the very end of that road, right up to the "Dead End" sign and there it is on your right.
Actually all there is to Riverside is the new barbeque pit and the small room where you place your order.  There are, however, several nice picnic tables they have built on the property in the old-fashioned style; that is, they are circular tables built around several trees so, weather permitting, you can eat there.  When you get there you will also notice that the whole operation is spotless and as neat as a pin.
Georgetown is coastal so, of course, one generally thinks of seafood when they are there, but now that Riverside is in business there is real barbeque available on the weekends at least.  You've got to try it