Dukes/ Aiken
Address:  4248 Whisky Rd., Aiken, SC 29803
Phone: 803-649-7675
Web site:  http://dukesbarbq.com/
Cards:  yes
Hours of operation: Thursday – Saturday 10:30am -8:00pm
"My favorite Duke's."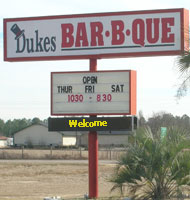 Duke's was founded about 50 years ago in Cope, SC, a small town outside of Orangeburg,  but it has grown to where there are about a dozen Duke's around the state.  Each one is operated by a different person but they all remain true to the Duke's style of hash, barbeque and sauce.
The Duke's on Whisky Road in Aiken is a large, all-you-can-eat restaurant that always seems to be crowded.  The parking lot is full from about eleven in the morning until two in the afternoon.  They are turning out the kind of food that the locals like.
The large buffet has a variety of vegetable offerings, some of which, I must say, taste as if they came right out of a can, but if you try a dab of everything and go back for only what you like, you are going to leave full and happy.
The hash that I get there is the typical Duke's reddish hash that has such a large following with many people in the state.  The barbeque has the same flavor as the other Duke's restaurants, which is to say, pretty darn good.  Where this Duke's suffers a bit is in the offering of sauces. This Duke's offers a variety of sauces which are interesting to try but if you are in a Duke's, why not stick with the "original," which was the original of what is now generally called Orangeburg Sweet Sauce? 
I also liked their corn bread and corn fritters and even the tea was good.  What I didn't like was the picnic table seating but then that is what one finds in a variety of other Duke's around the state.  My guess is that as the various owners (almost all of whom are kin) get together, they suggest that to one another.
One of our judges who lives down in that area told me it was his favorite Duke's.  I can see what he means.