Country Fixin's
Address:  4325 SC Hwy 15 South, Sumter, SC 29150

Phone: 803-506-2544

Cards: Yes
Hours of operation: Friday – Saturday, 11am - 9:00pm; Sunday 11:30am – 3:00pm.
"It's where I go when I'm close to Sumter."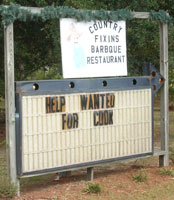 County Fixin's, which is about 12 miles south of Sumter on SC Hwy 15, is a good find for the barbeque deprived who happen to be south of Sumter, SC.. 
Country Fixin's has a fine buffet with a number of the usual barbeque offerings.  In addition to a pulled pork they have slaw, hash and rice, and the usual beans but they also have sweet potatoes, chicken, both fried and barbequed, beef in gravy, mac and cheese, fish and a good offering of greens and beans.  Plus they have a separate dessert bar with pie, cobbler and banana pudding.  And the beauty of all of that food sitting there waiting for you to help yourself is that it ranges from good to very good.
They used to cook their barbeque out back in real pits (which can still be seen there) but like so many others they have switched to gas with smoke added.  Their pulled pork is good enough to stop in for and will certainly suffice until you can get to a 100 mile barbeque house.  This is where the locals congregate to have a great meal while meeting and greeting each other.  You will find the local gentry, the good ol' boys and everybody else in between in Country Fixin's.
I've eaten there several times and I go back when I'm in the area.  You should try it too.