Maple's
Address: 4060 Patriot's Parkway, Sumter, SC 29154
Cards: no
Hours of operation: Friday, 2:00pm to 7:00pm. Saturday, Noon to 4:00pm
"Smokiest barbeque in South Carolina"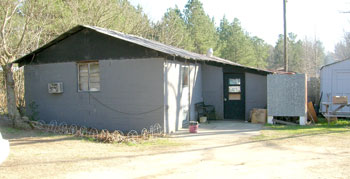 Maple's is going to be one of the most difficult barbeque houses you will try to find. They have no sign out front, or anywhere for that matter, and there is no address on the building. You can MapQuest them with the address above but to find them you have to start at US Highway 76-378 (Sumter Highway if you live in Columbia) and take SC Highway 441 for 5.6 miles south (turning right onto 441 from US 76). Then you will have to slow down until you spot the cars in the yard (just past Maple's Construction Company yard) and use the photo provided with this review.
Maple's has been doing business for two generations and it is kept busy by the locals who know where it is. Maple's is take-out only and when you get there all they provide is a few chairs in the small waiting room with a loud TV. There also is a small sign designating hours and one giving a few prices ($6.00 per pound, $3 for a sandwich). It's not listed on their sign but they also serve ribs that are fall-off-the-bone tender. And speaking of signs, one of their small signs says "Please have exact change ready." I don't think they even have a cash register. All very minimalist.
But while you are there you just might see some of the local city big-shots patiently waiting for their take-out bag of goodies. The locals know a good thing when they see it.
The barbeque is the kind of Pee Dee barbeque that one expects once you cross the Wateree River and move east; that is, it has a red sauce that is vinegar and pepper with tomato and spices. I have a hard time deciding if I like it better with or without sauce. Both are special.
The one thing to prepare for, however, is smoke. Maple's smokes their barbeque more than any place I've ever eaten. If you like it smoky, and many do, then you should make the trek to Maple's and give it a try.