Sgt. White's Diner
Address:  1908 Boundary St., Beaufort, SC 29920
Phone:  843-522-2029
Cards: yes
Hours of operation: Monday-Friday, 11:00am - 3:00pm. Closed Saturday and Sunday
"I keep on going back."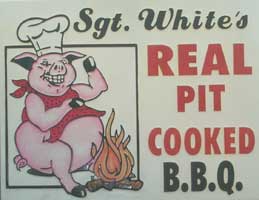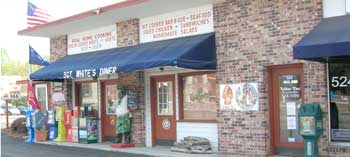 The first time I pulled up  to Sgt. White's I was disappointed because I'm used to barbeque houses being open on at least Friday and Saturday and it was a Saturday and they were closed.  What kind of barbeque house is this, I wondered?
Well, the name tells us, it's Sgt. Whites "Diner" not Sgt. White's "Barbeque:" despite the large sign and the big BBQ neon signs that are around. 
So, I made a note to try them the next time I was in Beaufort on a weekday.  I'm glad I finally got in the door.
At Sgt. White's you move down a serving line and they put whatever you point to on your plate.  And they really fill it up.  This "diner" serves down-home cooking and each of the sides, whether it is mac and cheese, collards, butterbeans, green beans, sweet potatoes or what have you, are just about as good as any you will get anywhere.  They also have pork chops, fried and baked chicken, fish and barbeque.  And don't forget the cornbread.
Actually the barbecue is probably the least of what they serve in the meat department because, while quite tasty, you can only get it in a thick red sauce of the Sergeant's making and it really doesn't measure up to many of the barbeques around the state.  But that being said, it is pretty good as a sauced plate of pulled pork.  The sergeant claims it is pit cooked. and you can taste the smoke, but the way it is served, in all that sauce, simply takes away from what a true barbeque fan is looking for.
Nevertheless, I simply can't seem to stay away due to the true home cooking one gets there.  It's just that now I generally get the pork chops.