Watford's Bar-B-Q
Name of Restaurant:  Watford's Bar-B-Q
Address:  341 South Main St., Bishopville, SC 29010
Phone:  (803) 484-6223
Cards:  yes
Hours of operation:  Wednesday – Saturday, 10:30 to 8:00pm
"When in Bishopville you do as the natives do."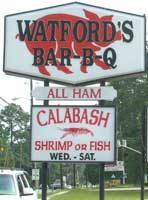 Watford's serves the barbeque deprived in the Bishopville area and has been doing so for over two decades.  It's housed in a 1960s style drive-in restaurant and it still keeps a drive-in window.
The folks at Watford's will tell you that they serve as much seafood and fish as barbeque. "In a small town like this you've got to offer something besides barbeque to get people to come in more often."  Well, the large sign outside and the bill of fair over the front counter tell the tale – oysters, clams, shrimp and flounder are offered up daily.
Watford's also serves a hash and rice plate; that is, just hash and rice served with hushpuppies.  The hash is one of the types found in the Pee Dee region, a sweet, red blend that is more sauce than hash.  The hush puppies are sweet (Georgia Pound Cake, as it is sometime called) and I loved them despite my preference for the unsweetened kind.  They will tell you that the barbeque is cooked on electric cookers and it never sees any smoke. Nevertheless, the ribs are tender and juicy and they are my favorite of what they serve at Watford's
You place your order at the standup counter which is in the front as you come in the door just as you would at a Hardee's or Burger King but they serve you at the table when you take your seat in their large dining area.  The ladies behind the counter all seem like good church-going ladies who are small town friendly.
After 20 odd years Watford's is as comfortable with the people of Bishopville as the people of Bishopville are with Watford's.