The Little Pigs of Anderson
Address:  1401 North Main Street, Anderson, SC
Phone: 864-226-7388
Cards: yes
Hours of operation: Tuesday – Saturday, 11:00 am to 9:00 pm. Closed Sunday and Monday
"Some Georgia style barbeque for a change."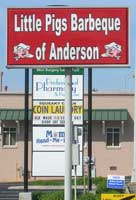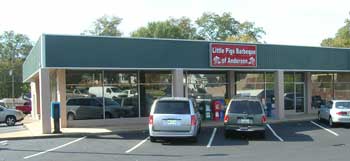 Back in the 1960s when I was traveling the state eating barbeque everywhere I could get it, The Little Pigs of Anderson was the only place in that city where it was available.  My friends took me there several times and I enjoyed it even though it seemed more like a burger and fries kind of place than a barbeque house.
You see, back in the 1960s some fellow in either Atlanta (or was it Tennessee?) tried to create a barbeque franchise (franchises were all the craze then) and he opened up a Little Pigs in a variety of towns and cities across the South.  Unfortunately he went belly up but the local barbeque places all simply went "independent" and kept on cooking.  That is why you see restaurants with that name in so many different cities. 
Little Pigs of Anderson did what everybody else did and just kept the name and kept on doing what they always did, which was serve up tender and juicy pork with a thick, sweetish, red sauce (both a hot and a mild) to help flavor it.  Don't forget, the original recipe for sauce came from Georgia and it followed that thick, sweet style that is found there.  Over the years the various owners of various Little Pigs have changed their sauces a little bit (sometime they've changed it a lot, I've discovered), but in Anderson it seems to be very similar to the original.
They don't do ribs or barbeque chicken at Little Pigs because it really is more of a burger and fries kind of place.  In fact, the hamburgers can be had in eight different styles while the barbeque comes in only one.  There are hot dogs, chicken fingers, grilled cheese, ham and cheese, ham sandwiches and other basic diner fare but if you want to see how it was in the 1960s and 1970s in towns across the South, duck in to The Little Pigs and get a plate. What you will get is barbeque done in the original Little Pigs style, which is, for all practical purposes, Georgia style.  The people in Anderson have been doing it for forty-five years and Little Pigs is as popular as ever.