Pop's
Address:  156 South Ron McNair Blvd, Lake City, SC 29560
Phone:  843-374-8677
Cards:  yes
Hours of operation: Thursday – Saturday 11:00am.-9:00pm.
"Good barbeque just where it needs to be."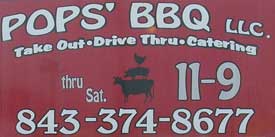 A couple of our judges from the Pee Dee area asked me if I had ever eaten at Pop's and I had to admit that not only had I not eaten there but I had never heard of them.  So, on my next trip into Lake City I had to try it out.
After trying Pop's I can say that the only problem with Pop's is that it is carry-out only so I didn't get to sit and enjoy.  Although I should mention that there are a couple of picnic tables where you could sit outdoors in good weather.
Pop's is turning out a good product and some of the best barbeque and sides around the Lake City and thank goodness for that since there isn't much else in that area.
I was particularly delighted with his sweet potatoes as a side (some more of those wonderful Pee Dee sweet potatoes) and his cole slaw.  His barbeque was a hit with a couple of our judges and, I might add, with me too.  It is served with a reddish sauce that is a little thicker than the usual Pee Dee style red sauce, which is generally closer kin to vinegar and pepper sauce than to the thicker red sauces one finds in the western part of the state.
One good thing about his service is that you don't even have to get out of your car as Pop's has a drive-through window.  If you can't handle a full plate he will make you up a sandwich to go and those are really generous sandwiches. 
And Pop is friendly and outgoing and seems to want to please.  I just can't understand why he doesn't have a bigger place
.