Duke's
Address: 1298 Whitman St, Orangeburg, SC 29115
Phone: (803) 534-2916
Cards: No
Hours of operation: Thursday – Saturday, 11:00am-8:00pm.
"It's a Duke's right down to the hash, the sauce and the barbeque."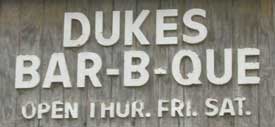 Decades ago Duke's actually started in a small town outside of Orangeburg but in a couple of years they opened a restaurant there and the name Duke's has been associated with Orangeburg ever since.
Duke's barbeque houses in their many forms around the state have probably served more barbeque than anyone else in the state with the possible exception of Maurice's.  Starting in the little town of Cope (where there is no Duke's any longer), the Dukes family then opened their next restaurant in Orangeburg.  They thrived there and set the standard for barbeque for miles around. 
Duke's started its expansion with sons and daughters of the founding family but over the decades they have allowed sons-in-law to operate in various cities as well as grandchildren.  And, boy do they differ!
Over the decades there have been changes.  Some Duke's restaurants, such as the one in Aiken, are large restaurants with a full-fledged buffet that has more on it than you could ever possibly want, and the others are somewhere in between the spartan Chestnut Street operation and the newer, lavish up-to-date restaurants.  But there is one thing that remains the same – the barbeque and the hash and the sauce.
The restaurant in Orangeburg on Whitman Street is close by S.C. State University and it is always full of happy eaters.  Their food line (they serve your plate as you move down the line cafeteria style) has lots of the usual down-home choices and they are all good.
The sauce that Duke's pioneered is generally known as "Orangeburg Sweet" and it is a mustard sauce (Orangeburg being a heavily German county) with molasses or brown sugar in it.  The success of Duke's over the years attests to the fact that tens of thousands of people have placed their stamp of approval on it.
The hash is a reddish hash rather than the darker brownish hash one generally finds in restaurants where the owner descends from the German tradition.  And while it is very good and I like it, some of our judges give it even higher marks and consider it the best in the state.  Actually, just a bowl of hash eaten as you would a Brunswick Stew, along with some crackers or a hash and rice bowl, are what some people get for their lunch.  As I say, thousands love that hash.
The good thing about a Duke's is that you get to try the hash and the Orangeburg Sweet sauce regardless of which one you are in.  So, if you haven't tried it yet, do so at your first opportunity.