Woodstone Barbeque
Address:  1513 Pamplico Hwy, Florence, SC 29505
Phone:  (843) 629-1290‎
Cards: all
Hours of operation:  Thursday – Saturday, 11:00am to 9:00pm
"Best Barbeque to date that I've tasted in SC"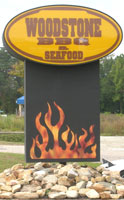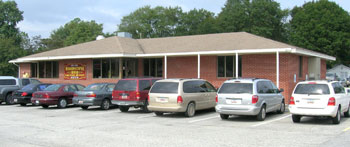 Woodstone is a brand new barbeque house with a 30 year history.  You see, Woodstone was just opened in 2008 in the same building that used to house Jackie's Barbecue and before that, used to be Woody's barbeque.  As the old owners retired a new owner would step up to the plate but in Woodstone's situation it is a whole new ball game. 
Roger Pope and his wife Salena were the original owners of Roger's Bar-B-Que in Florence.  Under their expert ownership Roger's became the premier barbeque restaurant in the area.  Then they decided that they had had enough (the restaurant business can be a killer) and sold out.  They also sold the name, "Roger's Bar-B-Que."  After recuperating for about 5 years they decided to get back in a business they knew well and had succeeded in but, of course, they can't call it "Roger's" anymore.  So, backed by 35 years of barbeque experience, they went to the other side of town and bought Jackie's.  They then changed the name of the restaurant, the style of barbeque and the general cooking to the manner they know best.
Woodstone is quite a treat.  They serve up two kinds of barbeque which they serve off of a well-stocked buffet.  And when I say well-stocked I mean it.  It's such a pleasure to eat in the Florence area and the Pee Dee in general because the buffets generally carry such additional goodies as chicken bog and catfish stew and chicken and dumplings as well as the ubiquitous fried chicken and home-cooked vegetables.
As I say, Woodstone serves up two kinds of barbeque with my favorite being the vinegar and pepper style that is indigenous to the area. They do cook over electric cookers but they only use a little bit of smoke.  They have found that their customers like it that way; that is, not too smoky.  They have two kinds of ribs with the ones with the sweeter sauce being the majority local favorite.
You are going to have to give this old/new barbeque restaurant a try.