Wise B-B-Q House
Address:  25548 US Highway 76, Newberry, South Carolina 29108
Phone:  (803) 276-6699
Web site:  wisebbq.com
Cards: yes
Hours of operation:  Friday and Saturday, 11:00 – 9:00pm
"A barbeque trip down nostalgia lane."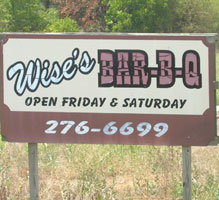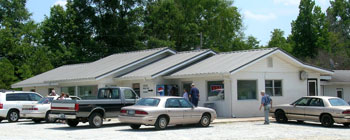 Wise barbeque is a bit of a conundrum.  For a generation it operated as a cook-with-wood barbeque house and packed the locals in.  Then, when Mr. Wise died and his sons took over, they converted the wood pits to gas and they still pack them in. 
Indeed, the second generation of cookers at Wise doesn't even baste their pork with a barbeque sauce as they cook it, but rather they first soak it in a brine solution and then cook it over gas at a high heat.  What you get is more akin to roast pork that you then splash with their mustard sauce, if you wish.  And the customers do wish since Wise has long since bottled it and sold it both over his counter and on the internet.  The locals snap it up.
When WISTV, the largest TV station in South Carolina, ran a poll asking viewers to email the name of their favorite barbeque house a couple of year's back, Wise B-B-Q House came in at the top of the list.  It was so strong that the people at WISTV did a program from there and it was chosen as one of only eight barbeque restaurants in South Carolina that they so honored.
When you go into Wise you find the same down-home friendly attitude that you expect in a good Southern restaurant, along with a nice buffet.  And you can expect a good sized crowd of locals to be there too. Also, Wise is the traditional cinder block painted white that old-time barbeque enthusiasts like to see.  What you might not expect is the way they fix their pork.  But can so many locals over two generations be wrong?  It's certainly worth a try to see.