Shealy's
Address:  340 E Columbia Ave, Batesburg-Leesville, SC 29070
Phone:  (803) 532-8135
Web site: www.shealysbbq.com
Cards:  yes
Hours of operation:  11:00am – 9:00 pm Monday-Tuesday, Thursday- Saturday,
"Killer livers and gizzards."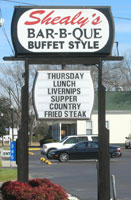 Shealy's is the largest barbeque house in the state.  And they do a vast catering business too.  And 2009 marked their 40th year in business.  All that should tell you something.  What it tells most people is that the food and price at Shealy's can't be beat. Shealy's may be the only barbeque house in South Carolina where tour buses pull up and let customers out 50 at a time.  It's best to go early on Friday and Saturdays than at peak times (7:00pm) because there is always a line.  And it's not like Shealy's is in the middle of the state's largest city.  Shealy's is in a small town that isn't particularly close to anything.
What they do have at Shealy's is one of the largest, if not the largest, buffet in the state.  Long lines of meat and vegetables spread our before you on their huge serving islands, plus there is a separate large fruit and salad bar.  And then there are the dessert bar and the soft serve ice cream dispenser for those with a sweet tooth. 
In the style that is typical today, it isn't just barbeque you will find at Shealy's.  There are chicken livers and gizzards that most aficionados consider the best in the state, plus fried chicken, of course.  Then there are the fish and sausages.  And heaven knows how many vegetables.
The problem with Shealy's, if you can say there is one at all, is that so many of the vegetables have a little too much sugar in them, but the lines out the door tell us that there are lots of  people who like it that way that now doesn't it? 
Also, the barbeque is cooked rather fast over gas cookers without any smoke so it's more like a great roast pork in sauce than an old fashioned barbeque.
Regardless of their food styles, however, a trip to Shealy's is a must, if nothing else just for the experience.  And when you do experience it you will probably want to experience it again.