School House Bar-B-Que
Address: 2252 Us Highway 52, Scranton, SC 29591
Phone: (843) 389-2020
Web site: no
Cards: all
Hours of operation:  Thursday through Saturday, 11:00 AM - 9:00 PM,
Sunday from 11:00 AM - 2:00 PM.
"Best Restaurant in the Pee Dee."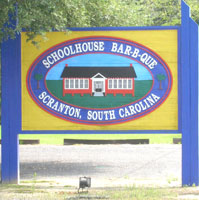 School House Barbeque is a vision of a man who has imagination and a love of doing things right. Bill Myers used to help his dad run a furniture store in Scranton.  They bought an old WPA built school house that was across the street from their store and used it for a warehouse. Then, when dad retired and the furniture business closed, Bill turned the old school house into a restaurant.
His love of nostalgia and history is evident from before you walk in the door, but after you enter you are in for an entertaining time.  Old bottles, tins, signs and memorabilia adorn the walls.  To celebrate the railroad that comes through town he has collected miniature railroad trains and cars and has those on display too.
Back in 2006 when WISTV did a series of live TV remote shows from several different barbeque houses around the state, School House was one of the choices.  And the crew at WISTV voted them their top choice for a good time.
Then there's the food.  Where to start?  Well, starting would be easy but finishing would be hard. School House has two buffet lines with two large buffet servers in each line.  If you can think of it, it's probably on that line.  And if I told you that next to the home-made biscuits they have placed large bottles of old fashioned cane syrup for you to sop with, would you think they were looking out for your every need?  They have, the syrup is right next to the biscuits and the butter. 
Then note that everything else you could want is there too – chicken bog, fish and shrimp, fried, baked and barbequed chicken, catfish stew, sausages, pork chops, and on and on. And then there are the vegetables, all prepared fresh when they can get them.  There is, of course, a salad bar, and even a dessert bar but few people bother to get a desert, they're too stuffed with genuine down-home cooking.
The barbeque is two types, as is often found in the Pee Dee area, a vinegar and pepper and a mustard type.  And the hashes are the two Pee Dee types, a red sweet sauce-like hash and real liver hash.  The barbeque is cooked in a large (it has to be large due to the demand) rotisserie that is electric.  No wood smoke, unfortunately, but a lot of smoke is created by the drippings.  This smoke adds a good barbequed flavor.
School House Bar-B-Que may not be a 100 mile barbeque but the School House restaurant is a 100 mile restaurant.  Don't miss it.