Little Pigs Barbecue
Address:  414 Montague Ave., Greenwood, SC
Phone:  864-229-1314
Cards: yes
Hours of operation: Mon-Thursday 10:30am-8:00pm.
Friday& Saturday 10:30am – 9:00pm. 
Closed on Sunday.
"When you need a barbeque fix."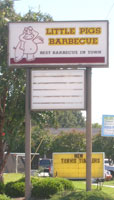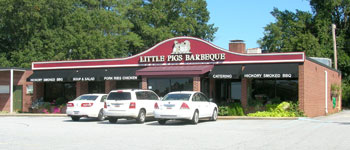 Little Pigs Barbecue in Greenwood has a sign out front that says, "Best Barbecue in Town," which may be true since barbeque is really not a staple in the western part of the upstate, at least not in the Saluda-Ninety Six-Greenwood area.  However Little Pigs did make the top 100 even if it won't be in the top 50.
This is really a sandwich/salad restaurant that also has some barbeque.  There is a sign of daily specials as you come in the door that tells the story.  Barbeque is featured only on one day and other specials on the remaining six days. 
In fact, Little Pigs is what you would expect in an eatery that is located close to a mostly girls school, as it most certainly is, being right down the road from Lander University. (It was Lander College in its all-girl hay-day of boasting the prettiest girls in the upstate, but everything has to be a 'University' now.)  Anyway, the menu has hamburgers, hot dogs, chicken sandwiches, tuna sandwiches, as well as its namesake, barbeque sandwiches, and a veriety of soups and salads.  Of course, each sandwich can be ordered as a plate with sides.  It also features a flounder plate and they have a hash plate which highlights its specialty – hash.
At Little Pigs they make a hash that is a little different from what one finds in the German counties (since Greenwood isn't a German area) or in the Pee Dee area of the state.  They make a hash with still visible small bits of potato in it and it is very thick, and is the "string" type hash one finds (when one can find it) as you move towards the western part of the state.  It's good, in fact, it steals the show from the barbeque I think and I can see why one would order a hash plate, which would be a fine lunch with the hash over rice and a couple of sides.
The barbeque is chopped and they boast that it is "hickory smoked."  You can taste the hickory, true enough but, unfortunately, it was a bit dry on the buffet and the sauce they have there doesn't help.  The sauce is "right" for the region.  It's what one would expect in the western part of South Carolina; that is, it's a sweet, thick red sauce that imitates a commercial Kansas City type sauce.  Unfortunately, they only have one type of sauce on the buffet and it seemed to me that the barbeque could benefit greatly from the light tomato, vinegar and pepper-based, sauces that one finds in the Pee Dee rather than the one they serve.
The barbequed chicken was tender and juicy enough and quite good.  In fact, the chicken and the hash and rice ought to do it if you want some real barbeque flavor.
The girls and ladies behind the counter make you feel welcome and they show the charm and verve that made Greenwood and Lander famous.  And if I was in Greenwood and wanted some barbeque and especially some hash, I'd stop in.