True BBQ
Address: 1237 D Avenue, West Columbia, SC 29169
Phone: 803-791-9950
Web site: www.true-bbq.com
Cards: yes
Hours of operation: Wednesday– Saturday, 10:30 to 6pm.
It's true barbeque for sure.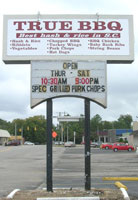 True BBQ is a new place in the Columbia area located in TriangleCity in West Columbia. They are housed in an old Maryland Fried Chicken building that has gone through many hands in the past decade or two. This time the eatery should have some staying power.
The cooking is done on a pull-along grill that one sees at barbeque cook-off competitions so it is genuinely "pit cooked" and the aroma of barbeque and smoke that hits your nostrils as you walk up tells you they named the place correctly.
Inside there are about 8 or 9 tables each seating four. You place your order at the counter and they fix your plate and bring it to you.
There are a variety of menu offerings besides barbeque with their specialty being grilled pork chops. They have a small plate and a large plate of pulled pork and a large and small rib plate as well as large and small of a variety of other choices. You can even get a hot dog if you are with someone who doesn't really know what they are doing.
The barbeque is truly good. It's not 100 mile barbeque but it's close. The ribs were a little chewy but also very good. The star of the show, however, was the hash. That hash, which is made with both pork and beef, is just about as good as you are going to get anywhere in the state. In fact, the next time I go I think I'll just get the hash and a rib or two.
Unfortunately the other sides were not up to the hash standard, but then if the hash is in contention for "the best in the state" honors how could they be? The worse was the slaw which I'm sure comes out of a food service can and is "fixed up" a bit. I had two forks of it and left the rest on the plate. The beans were good so none of those little beauties were left on my plate.
I ordered the small plate since I intended to get some ribs too. However, that is when the confusion set in – not mine, but theirs. They have ribs (baby backs) by the half and whole rack plus what they call "ribblets." I didn't want a half a rack of ribs so, after a convoluted explanation, I settled on "two ribblets."
As I say, the barbeque is very good, almost great. The rib was a bit chewy and their ribblet was that portion of the ribs that is cut across the rib top with 4 bones showing. It was dry (which is good) as opposed to wet and, again, no complaints with the ribs except I wanted two, but got only one. The small plate of pulled pork (presumably only $6.99), hash and rice, tea, two sides and the one small ribblet that came with the plate came to $12.04.
Maybe I was probably just being a bit spoiled since I had eaten at the BBQ Barn in North Augusta the previous day with a friends and there two $8 plates, a half rack of ribs (8 ribs) and two drinks came to $31 for two people, or about $15 each. Plus, and this is no exaggeration, the amount of barbeque put on the BBQ Barn plate necessitated two doggie bags for us to lug to our respective leftovers home. My wife and I made a full meal out of the left over barbeque and 6 ribs that I brought back from my lunch. On the other hand, at True BBQ I had no trouble cleaning my plate.
Another problem with True BBQ is the sauce. Happily the barbeque doesn't need any sauce at all because all three of the sauces they served are way too sweet. They have a mustard sauce which they call "Sexy Lady" and a red sauce they call "Pretty Lady." Both of those ladies are sweet ladies indeed. Both are sweetened with honey and the red sauce's taste is predominately of honey. The honey taste of the mustard sauce as toned down a bit but not enough. I asked if they had a vinegar and pepper sauce and the nice fellow serving me (probably either the owner or co-owner) said they had a "red-vinegar" sauce and brought me some. If I had to guess I would say it as the same sauce as the Pretty Lady just thinned with more vinegar. That is, it was somewhat better, but still too sweet and not a true vinegar and pepper sauce by any means. This is a shame because the barbeque at True BBQ might be enhanced a bit with a true vinegar and pepper sauce.
True BBQ just opened and they will have to get there kinks straightened out, plus adapt their sauces a bit, but when they do (I'm going back in a couple of months to see). With a few improvements, which I'll bet comes with time, they should be a nice addition to the real barbeque scene. Or should I say "the true barbeque scene?"