The Pompous Pig
Address: 3320 North Main St., Anderson, SC 29621
Phone: 864-231-7447
Web site: www.pompouspig.com
Cards: yes
Hours of operation: Tuesday-Thursday 11 am to 8 pm, Friday &amp
Saturday 11 am to 9 pm, Sunday 11 am to 3 pm.
"A 'Must Try' barbeque"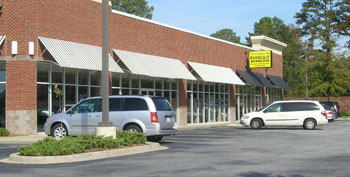 If you are anywhere near Anderson, SC you've got to try The Pompous Pig. It's easy to find since it's on North Main Street but you will have to know that their sign takes second billing on a large multi-name sign that advertises another eatery on the strip mall. But then, that's why we put the pictures of the signs up, isn't it?
Once you've located the sign and turn into the parking lot you will have to go towards the rear of the building (see the photo) to get to the Pompous Pig, but this little bit of effort is more than rewarded with the food that you get there.
Also, note that in the back of the building is a "patio" (as they call it) where they have six or seven tables for your out-of-doors dining pleasure. They do take-out too but they also have a couple of booths and more tables inside so you get your choice of seating.
The owners of The Pompous Pig have a little history they are glad to share on the back of their menu sheet. They say that after cooking successfully in the back yard to rave reviews from friends they decided to open a business. Those rave reviews were right on. The business is only about three years old (2011) but when I was there, about 2:00 pm on a Saturday, it was doing a booming business. And when you taste the pork and the ribs you will see why.
They are using a Southern Pride cooker to smoke their barbeque and they let it cook for the number of hours (slow cooking) that are required to bring it off tender and juicy with a good flavor of smoke. As good as the barbeque is their ribs are even better; tender and done with a dry rub that has lots of paprika and a healthy smoky flavor. The barbeque and ribs are served with the sauces but they do not need any other sauce at all.
Speaking of sauces; they have three. Their mustard sauce is the thickest mustard sauce I've ever seen. It's not bad but I can't imagine putting that on their barbeque. There are also two thinnish red sauces (mild and hot) that are similar to most other red sauces one finds in the up-state except not as sweet (thank goodness) or as thick. These up-state red sauces follow the same basic formula that one finds both in the Pee Dee area of South Carolina and the up-state, as the Piedmont area of North Carolina; that is, it's (usually) apple cider vinegar, ketchup, sugar, salt and hot sauce and black pepper. The variations of this basic sauce are not many. Sometimes wine vinegar is used or a little white vinegar is mixed in. Sometimes it's red pepper rather than hot sauce, but this basic sauce is to be found over the largest area of the two Carolina's. All in all, the sauces are both interesting and pretty good. The thing to remember, however, is that the barbeque is good enough that it doesn't need any sauce. After you have some barbeque as it comes form the pit just play around with the three sauces (they are on the table) to see if you actually do like one better than the other.
The other splendid thing about The Pompous Pig is their corn bread. I could make a meal of just their corn bread and some butter. Yes, it's that good. They set the standard for corn bread and I wish everyone else in the state would follow it.
There are over a dozen sides to choose from and all are interesting. Their baked beans are several beans mixed together with just enough chili (or cumin) to make it delicious rather than so much as to cover the flavor of the vegetables. I liked their baked beans, big time.
They also have sweet potatoes on the menu which they call "sweet potato casserole" and they would be one of my sides of choice. It's hard to mess sweet potatoes up, of course, just adding a little butter, sugar and cinnamon will do the trick, but theirs was extra nice. It sort of reminded me, at first, of a dessert I had way back somewhere in my childhood but couldn't quite place it. I thought and thought but I was never quite able to pin down the memory. Nevertheless, I finished my serving of sweet potato casserole in record time.
They also have Brunswick stew and it is more the traditional style, with discernable vegetables and meat in it and I though it was very good even if not the best I've ever had. Give it a try. I added a little hot sauce to mine and that really brought it alive.
They have salads and even a couple of sandwiches if you happen to be with someone who wants one but most of their menu is of barbeque and the sides it takes to make eating barbeque a pleasure.
As I say, if you are anywhere near Anderson, you've got to try The Pompous Pig.