Mike & Jeff's
Address: 2401 Old Buncombe Road, Greenville, SC 29609 
Phone: 864-895-8566
Web site: mikeandjeffbbq.com
Cards: yes
Hours of operation: Monday-Friday 10 am – 7 pm, Saturday 10 am – 4 pm, closed Sunday
"Tender and juicy"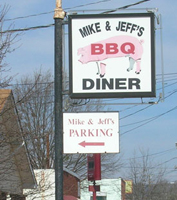 Mike and Jeff's has been operating at the same location in Greenville for decades and for a small place that tells you something.
They cook over a pit outside and it comes off very juicy and very tender and full of smokey flavor.  They have three sauces on their tables but this barbeque is best without sauce.
Indeed, one of the sauces (the dark one) tasted like Cattleman's and the somewhat lighter one with visible pepper seeds tasted like a doctored-up Cattleman's.  Their mustard sauce, however, was actually pretty good.  But as I say, no sauce is needed so just stick to the barbeque as served.
Mike & Jeff's operates as a sit-down diner so you order from a menu and they bring it to you.  The portions are generous and you won't leave hungry.  If you are with someone who wants to pass on barbeque that day they have hamburgers, hot dogs and other diner sandwiches including fried bologna and corn dogs.
Mike & Jeff's is small with only 6 tables inside and a couple of picnic style tables outside.  They do have a counter with about 4 stools too but they really seem to do a large take-out business.  Plus, they do a rather large catering business, having been established in Greenville for so long.
The problem at Mike & Jeff's isn't so much getting a seat as it is the side dishes and even the ribs.  While the slaw was fresh and homemade and very good, the beans were a bit on the flavorless side despite the big chunks of pork that had been added.  The French fries were popular with the diners and so were the onion rings but they actually looked better than they tasted.  The hushpuppies were brought hot from the fry cooker and were, after the barbeque itself, the hit of the day.
The big disappointment was the ribs, however.  They were tender enough but they were dry despite obviously having been cooked with a wet rub.  They also had a poor taste which I attributed to their having been old; that is, we were there on a Monday and I suspect that they had been cooked the previous week and refrigerated.  At least I hope so because if they were fresh off the pit that day then there was a real problem.  Indeed, this was only the second time in my tasting adventures that I left ribs on my plate uneaten.
While Mike & Jeff's won't get into anybody's top ten barbeque joints the quality of the barbeque, slaw and hushpuppies alone will put it in the top 100 so it's worth a try for all of us who truly want all the barbeque experiences we can get.