Lone Star Barbecue and Mercantile
Address:  2212 State Park Rd, Santee, SC 29142
Phone:  (803) 854-2000
Web site:  www.lonestarbbq.net/
Cards: yes
Hours of operation:
Thursday – Saturday 11:00am – 9:30pm,
Sunday 11:00 – 3:00pm
"Neat Place; I shall return!"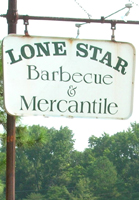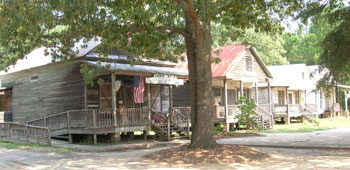 The owner of Loan Star Barbecue just couldn't stand seeing all those deserted old buildings, buildings he had known and been in as a child, deteriorate and fall down right in front of his eyes.  So he bought four of them and moved them to a beautiful location just outside of Santee, SC.  One of the buildings was from Lone Star, SC, which is a crossroads (you couldn't really call it a "town") up the road a bit, but he named the whole operation "Lone Star" anyway.
As I say, there are four old wooden buildings all standing in a row and connected with walkways that were built to blend in with the original buildings.  It sort of looks like an old main street in a town in 1910.  Inside these remodeled old buildings is a real treat.  They have not only been decorated to entertain visually with nostalgia, but they also have items for sale (candy for the kiddies, old-fashioned souvenirs, tee shirts, etc.) set in old glass-front cases.
The kitchen, on the other hand, has been remolded and is brand new and modern.  The food out of that kitchen is marvelous.  They have in-house specialties like tomato pie that people come from miles around just to get.  They also have fresh in-season vegetables cooked the old-fashioned way.  And they have barbeque, of course, and they serve it up in both low country and mustard style.  And their buffet even has ribs.  But on the large buffet you can also find barbequed chicken, fried chicken and fish and, depending on the day you are there, surprise items.  And they are all good.
Lone Star was so popular with the locals that WISTV chose them as one of the eight locations where they did a live broadcast.  The place was packed and the TV crew said they had never seen anything like it.  A good time was had by all. 
You and you family will have a good time too.