Hamm's Hawg Heaven
Address:  Highway 76 / 11375 C. R. Koon Hwy, Prosperity, SC
Phone:  (803) 364-4295
Cards: Yes
Hours of operation: Monday - Tuesday 11am – 2pm, 
Thursday- Saturday, 11:00am – 9pm, Sunday 11am – 8:00 pm
"Great buffet to go with the barbeque."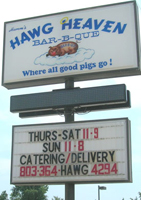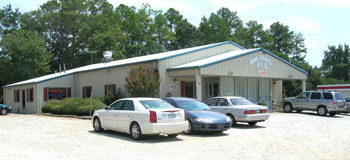 Hawg Heaven is more like a family restaurant with barbeque as an extra added attraction than a pure barbeque house.  I mean, how many other barbeque houses have you seen with a salad bar and a help yourself soft-serve ice cream dispenser?  That's the sort of place Hawg Heaven is.
The German name Hamm, of course, gives the main barbeque type away, that plus being in the heart of Lutheran Newberry County.  So you can expect a mustard based barbeque but the Hamms have adapted to the changing face of barbeque in South Carolina and offer a vinegar and pepper based barbeque too.
On the large buffet you will find all sorts of other tempting vittles in addition to the barbeque and ribs.  They have fried and barbequed chicken, of course, but they also have chicken livers and gizzards.  Plus there is a white chicken gravy right at your elbow for the rice.  And some people come just for their meat loaf.
They serve mostly fresh vegetables on the buffet and they invite you to help yourself at the desert cooler where banana pudding is only one of the offerings.  And don't forget the ice cream for both you and the kiddies.
Hawg Heaven is north of Prosperity, SC and it's a large, nice restaurant that always attracts the locals. It even has a display of real farm canned products like pickled okra, beets, sweet pickles and jams that the locals have come to rely on. (I got the sweet pickles, the crispy kind – delicious!)
It's hard to go wrong in Hamm's Hawg Heaven.