Fatback's BB'Q
Address:   3609 US 52 Hwy, Coward, SC 29530
Phone: 843-210-7447
Cards:  cash or check
Hours of operation:  Thursday – Saturday, 11:00 to 9:00
"You've just gotta try Fatback's."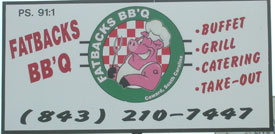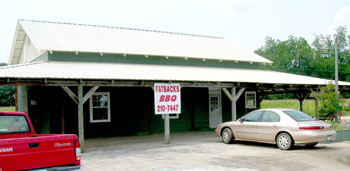 Fatback's is relatively new in that they've only been open a few years.  Their restaurant is housed in a building that used to be a produce market and vegetable stand in Coward, SC.  Coward, by the way, is not a town you go to, it's a town you go through on the way to somewhere else.  But now Fatback's is a real destination and is putting Coward on the map.
The fare is so typical of the Pee Dee; that is, chicken bog, chicken and dumplings and fried chicken compete with the barbeque for the customer's attention.  And there is the standard Pee Dee red hash and liver hash along with sweet potato soufflé. 
By the way, most outsiders don't realize it but the best sweet potatoes in the whole United States come from the Pee Dee region of South Carolina. They aren't as famous (yet) as Vidalia onions from Vidalia, Georgia, but they ought to be.  So sweet potato pie, sweet potato soufflé and candied sweet potatoes are not to be missed when you dine in a barbeque house in the Pee Dee region.
The vegetables are local and good and they aren't adding sugar to them.  The barbeque might not be a 100 mile offering but it's very good and will gladden your heart as well as your taste buds.