Doc's Barbeque
Address:  1601 Shop Road, Columbia, SC 29201
Phone: (803) 799-1532
Web site:  www.docsbarbeque.com
Cards: Visa and Master Card
Hours of operation:  Monday – Wednesday 11am-2:30pm; Thursday – Saturday, 11:00-9:00pm.
"The best catfish in South Carolina."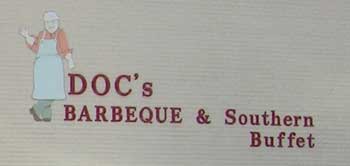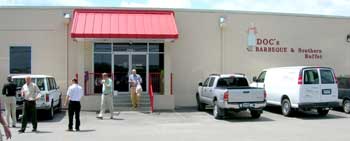 From the day the doors were opened Doc's was a hit.  The owner is a partner in Southern Way Catering, one of the top catering kitchens in the state. They had already made their well deserved reputation for their catfish as well as their whole hog offerings at catered events for those lucky enough to be able to get them. 
Just to make sure you don't get confused by their barbeque alone, on the inside wall of Doc's, behind the full country buffet, is a badly rendered painting of both a sow (with two miniscule piglets) and a big bluish-gray catfish.  It may not be 100 mile barbeque but it's good (they cook in a gas fired smoker in the back).  Their catfish is 100 mile catfish, however.
Doc's is located on Shop Road in an industrial area one block off of Bluff Road (SC Highway 48) near the William Brice football stadium that the USC Gamecocks call home.
From about the second month of operation the parking lot at Doc's was always full and they had to send people to overflow parking in the field next door.  That ought to tell you something.
The buffet includes greens, black eyed peas, mac and cheese, sweet potatoes, desert, pulled pork in two styles, mustard based and vinegar and pepper based, and containers of tarter sauce for those who want to add a bit of zip to their fish.  Plus, there are fried chicken and other down home goodies.  It may be hard to get a seat there but if you can't get a private booth you can fit in at the long tables with other enthusiasts who know a good thing when they taste it.