D&H Bar-B-Que
Address: 412 S Mill St, Manning, SC 29102
Phone: (803) 433-2189
Cards: yes
Hours of operation: Monday-Saturday, 11-8, Sunday 11-2.
"You can get your barbeque fix here anytime."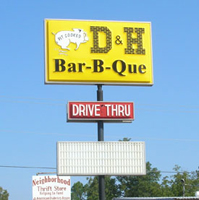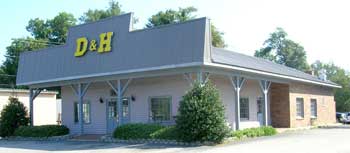 McCabe's may be the oldest barbeque house in Manning but it's not the only one in this small town.  And if you need a barbeque fix on those days when most other barbeque restaurants are not open, then D&H is the place because they are open seven day a week.
D&H is housed in an ex-fast food drive-in and the décor is a bit plain but they make up for it with the food.  The fried chicken is tempting but the slow-cooked barbeque is the bet.  Their buffet is smaller than some but perfectly adequate with everything one finds in the usual barbeque house including chicken and fish. 
The desert table, however, is where you will wish you hadn't pigged out at the buffet. The deserts are quite large and people stop often and get a desert to-go or to have it all by itself.
I've eaten at D&H several times and I've always enjoyed it.