Creekside Bar-Be-Que
Address: 1115 Salem Church Rd., Anderson, Sc 29625
Phone: 864-260-9093
Cards: yes
Hours of operation: Thursday –Saturday, 11am to 9 pm; Sunday 11 am – 2 pm
"Great ribs and you will certainly get fed."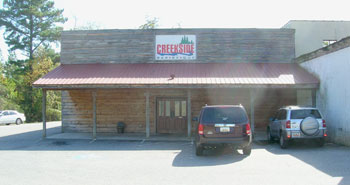 Creekside cooks real barbeque over real wood and they served it up on real plates rather than plastic. They serve up all sorts of sauces too, including one they hold back unless requested, which they say is "for ribs." (That one is listed on their little table guide to sauces). And even though it is a seated-serve with a "Please wait to be seated sign" up front, no one is going to leave hungry. In fact, the two plates served to me and my wife had so much food on them we requested a to-go box and had enough left over for a full second meal.
So Creekside should be a real contender for 100 mile barbeque, but, unfortunately, it's not.
The problem is the barbeque, which is tasty but it is served up on the dry side and that dryness made it a bit chewy. It had a mild smoke taste (just right, actually) but the meat just didn't have the signature cooked-over-wood taste. The taste was very mild and understated. The barbeque needs something, which must be why they actually offer five different sauces.
Their sauces are mustard, a reddish up-state style that comes in both mild and spicy, a reddish sauce that is marked "Hot" and actually is, plus that "rib sauce." And here is the problem – none of these sauces is particularly good on the barbeque. In fact the rib sauce is remarkably thick and sweet and it would take a masochist to put it on those wonderful Creekside ribs.
To my taste the best sauce on the meat was the mustard sauce, which isn't like the distinctive mustard sauces that one finds in the central part of the state but rather like a typical up-state mustard sauce, which is sort of sweet and has other spices so much so that the mustard actually plays a minor roll.
Nevertheless, Creekside was still a great meal. They started off by bringing us their slaw in a separate small bowl accompanied by three thick pieces of toast that had been buttered and grilled. That toast was great! The slaw, not as great, but with the addition of a little of their hot sauce it came alive so much so that I finished all of mine, and it was a nice size helping.
The up-state generally does not serve hash but rather one often finds Brunswick stew instead and Creekside is no exception. Their Brunswick stew is very good, but it was a little different from what I think of as Brunswick Stew. It had vegetables in it but it was mostly meat and the vegetables and meat were so ground-up and cooked down as not to be recognizable. But, as I say, it was very good. In fact I'll bet it would be just as good served over rice as hash.
The French fries were as good as any I have ever had in any restaurant at any time. There were so good that any addition of ketchup would be a crime. There are lots of other side dishes available and if the ones we had are any guide they probably all range from good to great
But, back to the main course…The hit of the whole meal was the ribs. If you had just ribs, French fries and toast it would be one of your most memorable barbeque meals ever!
My combo plate (pork and ribs) and three sides came to $12.95 and my wife's pork plate with three sides was $9.95. Considering the top quality of the ribs, the French fries, the toast and the stew and the fact that with the addition of a little sauce the pork was good, we considered it all a bargain. You should stop by Creekside and give it a try. You may find the sauces more to your liking and if you do then I predict that Creeksice will become a regular for you.