Cain's Barbeque
Address: 1502 Pamplico Hwy, Florence, SC 29505
Phone:  (843) 662-8991
Cards: all
Cost: Adult buffet $10, child (8 and under) $5, Senior Buffet, Thursday and Friday $8.00
Hours of operation: Thursday, Friday and Saturday 11:00am to 9:00pm
"Come for a long-time Florence tradition and leave smiling with a home-made pie."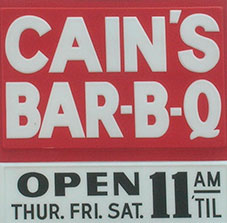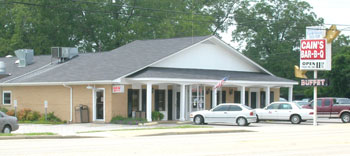 Cain's has a long and distinguished history in the Florence area.  It started out in the back of a country story in a room they added on to serve as a local eatery in Pamplico, SC.  That was back in 1950.  In only a couple of years, four to be exact, the barbeque business had grown so much that they had to open a full-fledged restaurant, which they did in Florence.  Then in 1968 they moved to the present location, a building that looks as if it was built in the 1950s.  And that is prefect because going into Cain's like stepping back into 1955.
Cain's has the usual Pee Dee buffet, lots of everything including fish and chicken and dumplings and chicken bog as well as the barbeque.  Plus, of course, the home cooked vegetables.
The barbeque here is a little different bent in that it is quite mild with only a touch of a sauce that has a mustard base.  They cook it over electric cookers and they don't smoke it.  Their customers like it that way they say and Cain's aims to cater to its customer base.
The hash at Cain's is, again, typical for the region; that is, a sweet red sauce-like hash and a liver hash.  It's the liver hash that you shouldn't pass up.  It's one of my favorites.
Another thing that you shouldn't miss at Cain's is their home-made pies.  They've been making these pies since the beginning and they do a brisk whole pie takeout business at only $8 per pie.  If you want to try a slice before you order a whole pie to-go you have your choice for only $2 a slice.  Chocolate, lemon and coconut pie are your choices and all of them are winners.