Bubba's BBQ and Bash
Address:  827 West Blackstock Road, Spartanburg, SC 29301
Phone: 864-582-7487
Cards: yes
Hours of operation: 11am – 8pm  Monday – Saturday, Closed Sunday
"Almost 100 Mile Barbeque."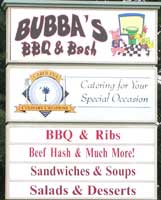 Bubba's is a relatively new restaurant as it has been in its present location only a few years but it has actually been in business since 2002.  It has all of the virtues of a new place; that is, comfortable, clean, airy and nice rest rooms.  It is just the sort of place you would take the family, which is something they obviously know since they have a kid's menu too.
It's not the nice building you go for, however, but their delicious barbeque. It has a wonderful flavor and there is nothing that needs to be done to improve it.  That is especially true in the case of the sauces that are on the table in cute little metal buckets.  Don't mess up that good barbeque with those sauces!
The pulled pork barbeque is as tender as any you will find and the flavor will hold its own with any barbeque in the state.
Bubba's is a place you order at the counter and they bring your plate to you.  You get plenty but there are a couple of problems, however.  Their hush puppies taste like they are made from an institutional mix and leave a bit to be desired.  That is made up for by their good red slaw.  In fact, they offer two kinds of slaw and they call their red slaw "barbeque slaw."  Whatever it is called it's very good.
The other problem is their ribs.  Those are simply not very good.  They are tender enough but they taste like they are coated with a poor choice of homemade, dry-rub spices and then coated later in the cooking process with a wet rub that reminds me of Cattleman's sauce.  Whatever it is, the ribs keep Bubba's from being a 100 mile barbeque house.
The fellow next to me had a big barbeque sandwich and French fries and that sandwich looked mighty good.  A plate of barbeque and slaw and beans or mac and cheese would be enough to get me back through the door many times.
The service was very good with a waitress bringing me a wet wipe since I was having ribs, plus everyone was Southern friendly.
The thing I didn't try was the "Bash" which is shorthand for Calabash.  They seem to specialize in calabash chicken as well as barbeque. Like all South Carolinians I'm quite familiar with calabash seafood but I'm not familiar with calabash chicken.  On my next visit, and there will be a next one that is for sure, I'm going to try that in place of the ribs.  In fact, they have a Barbeque and Calabash Chicken plate right on the menu so that is reason enough to go back.  The judges who told me about Bubba's were right, that's for sure.
Bubba's also has a long list of sandwiches for a lunch menu that look great and are reasonably priced.
Bubba's is not to be overlooked.  And I look forward to the time when they get those ribs straightened out so they can take their place in the 100 mile ranks.