Brown Derby
Address:  1399 Belleville Rd, Orangeburg, SC 29115
Phone:  803-539-2722
Cards: yes
"Now that was a great experience."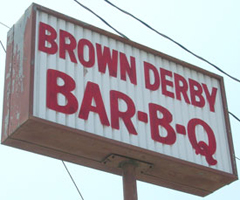 Brown Derby is a bit off the beaten path, but if you want some real pit cooked barbeque combined with the friendliest service you've ever seen and home cooked soul food, this is the place!
The Brown Derby has been serving it community for over 50 years and nothing has changed much.  Indeed, it's like stepping back into the 1950s.  A restaurant can't operate for that many years unless they are doing something right.  And right it is.
The pit cooked barbeque is excellent but the sides – home cooked vegetables, cornbread, desserts – are, literally, just like your grandmother used to make.
As we stood in line it all looked so good I asked the young girl (in her 20s) next to me what she recommended.  She giggled and rolled her eyes and several eavesdropping men standing in the line all laughed at my naivety.  "It's all good," they all pretty much said in unison.  So we got several extra sides and an extra serving of ribs.  And they were right, it was all good!
We left full as a tick and we had had one of the best old-time barbeque house experiences ever.