Midway BBQ
Address:
811 Main St, Buffalo, SC 29321
Phone:
: (864) 427-4047
Cards:
Yes
"May even be 200 mile barbeque."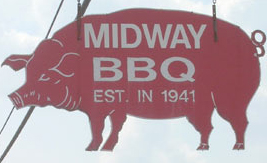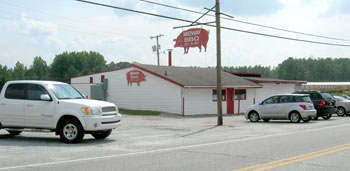 Midway Barbeque has been in the same location since 1941 and that probably makes it the oldest continuously operated barbeque restaurant in South Carolina.  And if you go there at lunch time you will be lucky to get a parking place.  Those two indicators will tell you almost all you need to know.
Midway is in Buffalo, SC which is just outside of Union, SC, just in case you haven't heard of it, and most haven't.  Buffalo is not a place you go to; it's a place you go through on your way to somewhere else.  Except for the barbeque, that is.
Midway BBQ is unlike any other barbeque house in the state.  When you walk in you'll see why.
What makes Midway so different, other than it's genuine 100 Mile Barbeque, is that when you walk in you see sawdust on the floor, a long meat counter where they sell their own home-made sausage and other meats and the long line at the cash register. With the exception of you everybody you see there will be a local who has been there time after time and who will keep on coming back time after time.
Midway also sells a signature chicken stew that I always get a pint (or quart) of to take home when I'm there.  Plus, they sell a hash that is virtually unique in South Carolina; it is an all beef hash.  Sometimes (I'm told) they put a little pork into it but the pork portion is never more than five percent.  And, boy is that beef hash good.  It's one of their biggest sellers.
But the barbeque is the thing.  It's cooked over coals in an ancient (original), semi-indoor pit over hickory and oak.  Then it is chopped and pulled and mixed with two types of sauce that gives you a choice between an upstate mustard sauce and an upstate red sauce.  I like them both by my favorite is the red sauce but, in truth, I prefer it without sauce just as it comes off the pit.
In addition to the chicken stew that I always get some of to go, I usually load up on their homemade sausage.  But most of all, I always get a couple of pounds of barbeque to go.  There is no sense in going all the way to Buffalo and coming back empty handed.