Henry's Smoke House
240 Wade Hampton Blvd. Greenville, SC
1824 Woodruff Rd. Greenville, SC
123 N. Main St. Simpsonville, SC
Webiste: http://henryssmokehouse.com/ 
Greenville is blessed that it has Henry's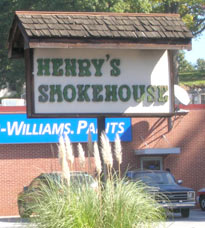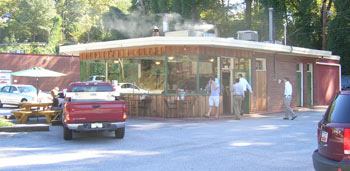 Henry's use to have one place but then people started coming to that one place and now he has four restaurants.  That will tell you what you need to know.
The first time I tasted Henry's barbeque was at a catering.  I thought if they can deliver barbeque that taste that good I've got to find the source.  And the source was, then, on Wade Hampton Boulevard in a small restaurant that had been some other eatery in its youth.  But the barbeque tasted the same as when I first tasted it, which means it was very good.
There is one problem, however.  They have four places but they cook in two places and deliver to the other two.  The delivery isn't the problem; a few really good operations do that every day.  The problem is that there is bound to be some inconsistency when two cooks are working the pits.  I haven't seen that yet, but I'll bet it exists.
What I have seen is consistently good barbeque and good sauces that they sell by the bottle if you want to take some home.  Although I will say that Henry's ribs, while quite tender, are far from my favorite.  Indeed, after ordering them once I have never ordered them again.  Although I must say that the ribs I had that were catered were delicious.  That just might be some of that suspected inconsistency between pits.
The sides are anywhere from good to great with the hash being one of the best in the upcountry. Often times the barbeque houses in the upstate don't serve a hash as they always do in the Pee Dee and in the German heritage restaurants from Newberry to Charleston, and when they do their hash often times leave something to be desired.  Not Henry's.  Great hash.  You can also get a red slaw at Henry's and very good Brunswick stew but the real reason to come is the barbeque.  It's barbeque that I never mess up with any sauce.  It's delicious just off of the pit, as it should be.  If you are in Greenville stop in and see what thousands of locals have already learned.