Bucky's Bar-B-Q
4 Locations to Serve You
1700 Roper Mountain Road, Greenville, SC‎
2010 Perimeter Road, Greenville, SC
103 North Main Street, Fountain Inn, SC
1326 N. Pleasantburg Drive, Greenville, SC
Website: http://buckysbbq.com/
"100 mile barbeque comes to Greenville."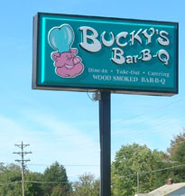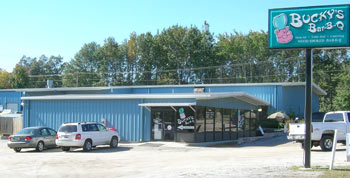 I listened to two of our judges argue as to whether Bucky's was 100 mile barbeque or not and it was so heated that I knew I'd have to see for myself. Well, I say it is 100 miles and that the ribs are what sealed the deal for me.
The barbeque is very good, smoked for many hours over wood and it comes off very tender and juicy. I've watched them prepare it, trimming off any extra fat, and while watching those wonderful juices flow on the cutting board I could hardly keep myself from reaching over and snagging a piece as they were fixing it. This barbeque is, by any standard, a barbeque that one will drive out of their way to get.
The ribs, on the other hand, are even better than that; they are some of the best in the state. They are, like the pulled pork, tasty, smoky and very juicy and while they are firm to the bite, as good ribs are suppose to be, they are very tender. They will fill the bill on the plate of any rib lover. When I'm there I never get less than a full rack to take home – they're that good.
Another interesting thing about Bucky's, and this is something people don't often think about, is that the sauces actually do compliment the meat even though the meat is best eaten without them. If you actually want to change the flavor profile of your barbeque while at Bucky's you can add either their mustard or red sauce, both are great with the meat. I should mention that they have a third sauce a vinegar and pepper that is actually hot unlike most of the so-called "hot" sauces that we find in most of the restaurants. The problem with it, however, is that a good portion of the heat comes from jalapeno and that pepper, while great to eat, makes a poor sauce. So, when I'm at Bucky's I avoid that sauce and sometimes, just for fun, I add a little of the other two. But as I say, their barbeque is better on your plate unadorned.
Another good thing about Bucky's is that all of the barbeque is cooked on the same pit and delivered to the other restaurants so it's always going to be consistently good regardless of which restaurant you visit.
The people in and around Greenville seem to agree with our judges since Bucky's started out in one location on Roper Road and now there are four Bucky's scattered from the south (Fountain Inn) to the newest location on North Main Street in downtown Greenville.
Another thing you are going to like about Bucky's is their moderate prices. I can't think of many places in South Carolina where quality this good comes this cheap.
They have the usual sides with their slaw being homemade and their sweet potato crunch being a favorite right up there with the mac and cheese and sweet baked beans. You'll like the sides. But you will love the barbeque and the ribs. Don't miss it.