Maurice's Gourmet BBQ
Address:

1600 Charleston Hwy, West Columbia, SC 29169 (803) 796-0220
800 Elmwood Ave. Columbia, SC 29201; phone (803) 256-4377
9563 Two Notch Road, Columbia, SC 29223; phone: (803) 462-0882
252 O'Neil Court, Columbia, SC 29223; phone: (803) 865-0608
4411 Devine Street, Columbia, SC 29205; phone: (803) 782-9547
662 St. Andrews Road, Columbia, SC 29210; phone: (803) 7726999
2450 Augusta Rd, West Columbia, SC 29169, phone: (803) 796-4777
107 Clemson Rd., Columbia, SC 29229, phone: (803) 788-5661
1141 Lake Murray Blvd., Irmo, SC, 29063, phone: (803) 732-5555
766 West Main St., Lexington, SC, 29063, phone: (803) 359-8789
1010 South Lake Dr., Lexington, SC 29073, phone: (803) 356-1909
1223 Knox Ave., North Augusta, SC 29841, phone: (803) 279-4587
363 Britain St., Santee, SC 29142, phone (803) 854-3859

Website: http://www.PiggiePark.com
"If this isn't the best barbeque in South Carolina then it's in the top two."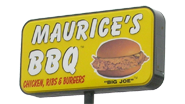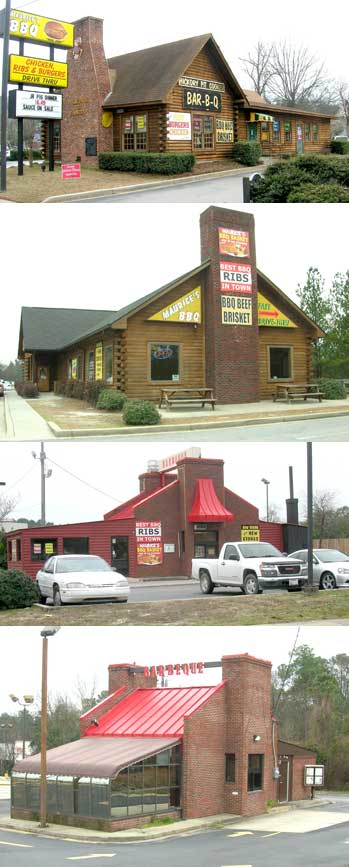 Maurice's is the most taken for granted great barbeque in the nation. It has been cooked at its home base location in West Columbia since 1953 and the barbeque has always been exactly the same product as it is today – the consistent top quality and king size servings you get every time. Over the years Maurice's has opened locations around the midlands of South Carolina and in a few additional towns around the state so that now there is a Maurice's not far from where you are and that is where the "taken for granted" rub comes in.
Maurice's is true 100 mile barbeque and it's conveniently located so that everyone in the central part of the state can easily stop by and fill up. And since they operate seven days a week they can do so whenever they desire. So, for over 50 years people have come to just expect that succulent, slow cooked-over-coals, top quality barbeque to always be there and easily obtainable. Unfortunately people do not generally realize that barbeque of this quality is hard to come by and it's there because Maurice Bessinger, the fussy perfectionist owner of Maurice's, has made it look so easy. And just because he has so many restaurants there is nothing to fear in consistent taste and quality. At Maurice's all of the many store's barbeque is cooked at one time in a long line of pits by the same pit master who has been there for years. After it is cooked, and it is a very slow process, often taking up to 24 hours, it is loaded on heated delivery trucks and delivered to each location early every morning so that it is served as fresh as a 24-hour barbeque can be. Maurice's cooking operation is so large that at the main Maurice's location he has a long line of 10 "extra" pits that he has to fire up for special holidays such as the 4th of July and Labor Day.
Maurice's is true to the heritage of the German tradition in South Carolina Barbeque. It is mustard based barbeque and it's served with hash and rice as the main side dish. Many people consider Maurice's hash to be the best in the state but all of his side dishes are in keeping with the top quality Maurice Bessinger has always insisted on. Of special note is his slaw, another contender for the-best-in-the-state honors. And Maurice was one of the very first practitioners of serving natural foods. His sauce proudly displays "All natural ingredients and no preservatives." Indeed, even if you stray off the barbeque menu and get a hamburger at Maurice's you are getting it from top quality meat freshly ground that morning.
But don't stray if you can help it. Stick to the barbeque, but be sure to include a rib or two. Maurice's is one of the few top-notch places where you can get ribs seven days a week and many barbeque aficionados consider his ribs to be the best in South Carolina. They are very large ribs, slow cooked over real coals the way they were in the 1950s when Bessinger opened his first restaurant. Going to Maurice's is like stepping back into the 1950s where you get to see what real barbeque was like.
If you are in the central part of South Carolina (and now in a few select towns around the state), and you haven't eaten barbeque at Maurice's then you've missed the essence of true, signature, South Carolina mustard-based barbeque.