Hudson's Smoke House
Address:
4952 Sunset Blvd., Lexington, SC 29072
Hudson's Express To Go
Phone:
(803) 356-1070 (for both restaurants)
Web site:
http://www.hudsonssmokehouse.com/
Cost:
Cards:
Master Card, Visa, American Express, Discover
Hours:
Seven days a week, 10:00 am to 9:00 pm
"This quickly became the favorite barbeque house for my whole family."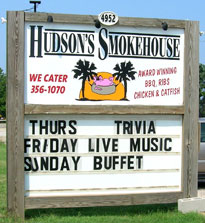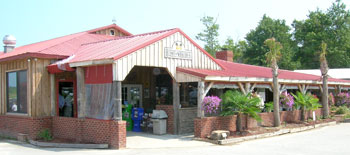 Hudson's Smoke House is owned by Robin Hudson who is actually from North Carolina and not South Carolina.  It turns out that Robin, in his early life, wasted his time in the automobile business.  His true calling, it turns out, is barbeque.
After only three years in the business he became the kingmaker in central South Carolina with his barbeque voted "Best Barbecue" in all three of the publications that measure public opinion on such things.  Hudson's was voted "Best" in the largest daily newspaper in the state, The Free Times, an alternative weekly newspaper that has a large following in the community and in Metropolitan Magazine, a leading read for those looking for entertainment and good food in the area.  In other words, in one year they won the Triple Crown!
Hudson, who is from North Carolina, was not caught up in the German mustard tradition that so many central South Carolina restaurateurs follow.  Rather than adopt the local tradition, his barbeque is really a spiced vinegar and pepper style found in the Pee Dee section of South Carolina and the piedmont area of North Carolina.  And, boy has it become popular in central SC!  On his tables you will three different types of sauces if you want to experiment a bit.  And while I've actually heard one of my Senior Judges say that his mustard sauce is their favorite, my vote (and most others) goes to his vinegar and pepper sauce.  He uses wine vinegar and it is one of the best vinegar and pepper sauces you will ever find.
He serves pulled pork menu style in remarkably large portions along with sandwiches, baskets (with French Fries and slaw) and all sorts of extra sides.  He has even put in a buffet in both locations. 
Hudson's is equally famous for his side dishes.  Not only is his barbeque 100 Mile Barbeque, his French Fries are 100 mile French Fries too.  And that's not to mention his Mac and Cheese, which is his most served side. He also offers such side dishes as collard greens and black eyed peas and he has enough sense not to sugar them to death.
Hudson serves catfish and chicken as well as beef brisket.  Many people who eat there regularly alternate his fish with his barbeque and his beef on different days.
Hudson's first started out as a take-out barbeque stand in Lexington.  Then he had to add some outside seating.  Then the seating grew into an enclosed restaurant, then the restaurant had to be doubled in size, then it had to be doubled again!  There is usually a line out the door so he's doing something right.  The ranks of loyal Hudson followers grows year by year.
Hudson's is one of the few barbeque restaurants in the state that includes a sports bar.  That's right, you can get not only get a beer at Hudson's but also a mixed drink.
Does it get any better than this?