Bessinger's Bar-Be-Que
Address:
1602 Savannah Hwy
Charleston, SC 29407
Phone:
(843) 556-1354
Web site:
http://www.bessingersbbq.com/
Cards:
Yes
Hours of operation:
Seven days a week 10:30 to 9:30. Buffet:
Friday-Saturday, 5:30 to 8:30, Sunday, Noon to 8:00pm
"My favorite place in Charleston"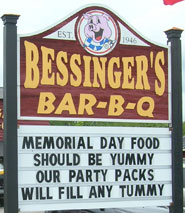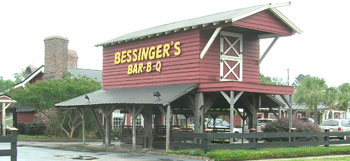 Bessinger's Bar-Be-que has been around since 1946 and it is still doing a land-office business. And he is still doing it the old-fashioned way, out back in a real pit. Maybe that is why it's hard to get a parking place at Bessinger's.
Thomas is one of the three Bessinger brothers (Maurice, Melvin and Thomas) who are generally acknowledged to be South Carolina's First Family of Barbeque. They all grew up in Holly Hill, South Carolina, and learned their magic under their father, the legendary Joe Bessinger, who ran a family restaurant there. And learn it they did.
All of the Bessingers produce 100 mile barbeque and all of it harkens back to the original which is mustard based fare. Bessinger is a German name after all and in South Carolina when you find a barbeque house owned by a person with a German name, you are going to find a mustard sauce.
Bessinger's is an order-at-the-counter and pick-it-up restaurant. The lines form because the barbeque is excellent and the sides are very good.
One of the specials there, by the way, is their onion rings. These onion rings are large and I do mean "Large." Actually it is an onion ring inside a large, soft donut. Be warned, they are sweet but they are so popular that people gobble them down and you will probably want to try one too. They are so popular that they even serve these one-of-a-kind onion rings as a single order for $1.35 each (last time I was in there).
Their hash is very good. Make that, very, very good and there is a taste of onion in there, giving it a bit of an old-time flavor.
They serve their ribs with a wet mustard sauce and they are St. Louis style ribs. They look like South Carolina ribs to me but the "St. Louis" refers to a bigger cut and those bigger ribs are tender and come off the bone with a nice easy bite. As an extra added attraction they put a nice jalapeño pepper in with each order of half-rack or whole-rack.
The barbeque is, of course, mustard based and it is pit cooked and not to be missed.
When you think about it, 60 plus years of serving real barbeque is quite an accomplishment. Don't miss out.