Hite's Bar-B-Que
Address: 240 Dreher Road, West Columbia, SC 29169
Phone: (803) 794-4120‎
Cards: No -- cash and check only
Hours of operation: Friday 8am-8pm,
Saturday 8am -7pm
"100 mile barbeque and 200 mile skins&rdquo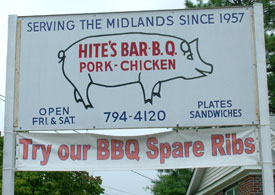 "100 mile barbeque and 200 mile skins"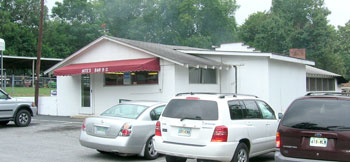 My father considered Hite's in West Columbia to be the best barbeque in South Carolina, and he was a restaurant man! Our co-founder said he considered it the best for decades until he was fortunate enough to become associated with the SCBA and found out that there were a few others that were almost as good.
The Hite family is one of the legendary German barbeque families that grace central South Carolina. His cousin, Jackie Hite, offers a 100 mile barbeque in Leesville and his cousin, Robby Dooley (his mother was a Hite), had Porky D's in Lexington, another 100 mile barbeque.
Hite's has been quietly serving its unbeatable fare for over 50 years and it's takeout only, although they do have a couple of picnic tables you can sit at next to a small pond that is next to the parking lot.
If you want Hite's barbeque you have to drive there and wait in line. That's for the barbeque. If you want skins you have to call ahead the day before and get on the list. They will have them ready for you when you arrive. No prior reservation -- no skins. They sell out those delicacies every weekend. In fact, that last time I called, which was on a Thursday before their Friday opening, they were already sold out for Friday and were only taking orders for Saturday! That ought to tell you something!
In 2008 ETV in Columbia decided to do an hour long program on barbeque around South Carolina. They started at Hite's. At least the producer of the show knows his barbeque!
This is old fashioned 100 mile barbeque that almost everyone puts at the top of their list of "The best of South Carolina."