Melvin's Legendary Bar-B-Que
Address:
925 Houston Northcut Blvd, Mt.Pleaseant SC
538 Folly Road, James Island, SC
Phone:
(843) 762-0511 (James Island (843) 881-0549 (Mount Pleasant)
Web site:
http://www.melvinsbbq.com/
Cards:
Yes
Hours:
Closed on Sunday
"It gets my vote for the best in the low country."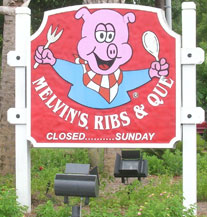 Melvin Bessinger is one of the three famous Bessinger brothers who have changed the face of barbeque in South Carolina. 
South Carolina has always had the best barbeque but in years gone by it was often served in small, out of the way places or at special functions such as political rallies and community socials.  It wasn't always as accessible on a regular basis as it is today.
The advent of real restaurants that you would be happy to take your family into is a rather recent thing, actually no more than about 50 or 60 years old, and way back then there were few such places.  Well, the Bessingers all have nice restaurants and boy do the people keep on coming back!
Melvin Bessinger has two places in Charleston, neither one of which is in Charleston proper.  One is on John's Island and the other is in Mount Pleasant.  Nevertheless, they are worth the trip regardless of where you are.
Melvin has a dry-rub rib (unlike his brother, Thomas, who serves a wet-rub rib atBessinger's) that is a little different from what you get everywhere else.  It's tender but you can see your teeth marks when you take a bite.  This is the hallmark of a great dry-rub rib.  He cooks them with real wood, low and slow, just as he does his barbeque.
And speaking of that barbeque, it just "looks" right; that is, when you get it on your plate it has some of that wonderful outside "bark" that real barbeque aficionados crave and it has that tell-tale pink smoke ring on some of the pieces.
Melvin has three different sauces that he serves and, depending on your taste, one of them is going to be just about as good as you are going to find.  They all have a mustard base to them and they are all great.
His hash is, just like his barbeque, 100 mile hash. 
When people are asked where to go to get the real deal in Charleston, generally they say "Melvin's."  It is, indeed, the real deal.